Biz Start-up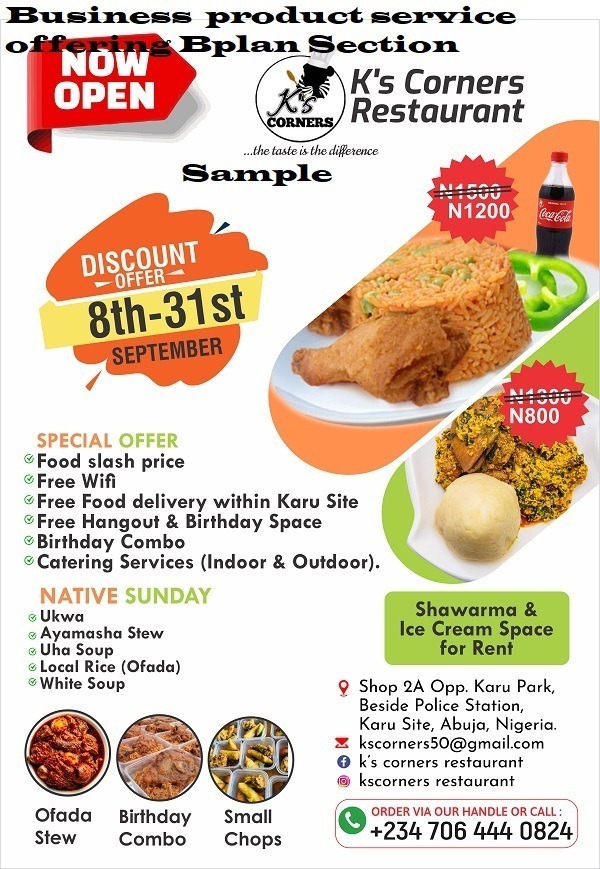 How to write Company products & services section with Business Plant Templates
How to write Company products & services section with Business Plant Templates – relevant questions are; how do you write the products and services section of a business plan? And, how do you write a product description for a business plan? If these are your questions, then, this post is a must-read for you. Other sections of the business to always cover are Executive Summary, Company Description, Market analysis, Risk Analysis, and Strategy and Implementation. Here is How to write Company products & services section with Business Plant Templates
Company/Business Product and Services:
As a matter of fact, in this write-up are sample company products and services illustrated. They are
products and services business plan in pdf. Others are business plan examples with product service offering examples and business plan product description examples. They are also called product/service offering description evolution and justification example.
In fact, illustrated here is the product service offering of K's Corners Restaurant business. In cessummit.com you get expert tips to take your business to the next level. Therefore, you must read our articles, understand and follow the handful of strategic ways to grow your business. There are also hot, profitable, and untapped business growth ideas in Nigeria.
How to write Company products & services section with Business Plant Templates
Company Product & Services Segment illustrated:
Company products and services offering analysis segment of the business plan is key to business success. In fact, it's a way of marketing yourself to your audience. Therefore, it is necessary to honestly tell your audience what you can offer them and at what price and quantity, and if possible at which time. In fact, if you are scaling up your business, this article is a must-read for you. So, here is an illustrative example for you to draw inspiration from.
Product & Services:
K's Corners Restaurant features local dishes, an eclectic ambiance, and superior service. Our food is of the finest quality and prepared with an exotic flare. Customer satisfaction is the driving force behind our success. We change our menu every 6 months but maintain the 'favorites' for loyal patrons. Portions will be modestly sized, garnished with stunning presentation.
The kitchen staff are some of the best in culinary education and work experience. Their creative talents will complement one another. The lounge and restaurant staff will offer the finest service in an electric atmosphere and offer customers an extraordinary dining experience. This is How to write Company products & services section with Business Plant Templates
Our wine section when introduced will be modest and primarily focused on wines from local and international brand lists. And, approximately 25% will be available exclusively by the glass, and the remaining labels will be available by the bottle. We will also feature a moderate beer selection in bottles. By this, it's right to say that K's Corners Restaurant bar section features a comprehensive selection of local and international spirits.
How to write Company products & services section with Business Plant Templates
K's Corners Menus:
K's Corner's varied local menu will feature Igbo, Calabar, Hausa, Yoruba, and other regional flavors. In fact, the menu flows together to create complementary elements for each other. Normal lunch and dining have special items and features paired with the wine menu. We have carefully selected a premium wine, beer, and alcohol listing, from which we will choose a modest rotating selection. K's marketing will focus on our exotic foods, but our hours, target market, and location will produce significant home-type food sales.
The list below offers a small selection of our menu offerings:
The regular Menu is made up of the following;
Egusi Soup
Uha Soup
Ugu vegetable soup
Afang Soup
Panga Soup
Other native soups
Iba and Semovita and Weath dishes
All manner of cooked rice
Yam/pounded and ordinary
Plantain – assorted
Native Sunday: How to write Company products & services section with Business Plant Templates
This is a special offering for those who wish to handout on Sundays with native food like;
Ukwa (bread fruit)
Ayamasha Stew
Uha soup
Local Rice (Ofada)
White soup
And others.
Drinks/Wine:
This is made up of all types of soft drinks, and special wine for our executive launch.
Other offerings:
Other offerings are free spaces for those who want to celebrate birthdays or one anniversary or the other. In fact, there is free accommodation for club meetings. These are special offerings for patronizing our products.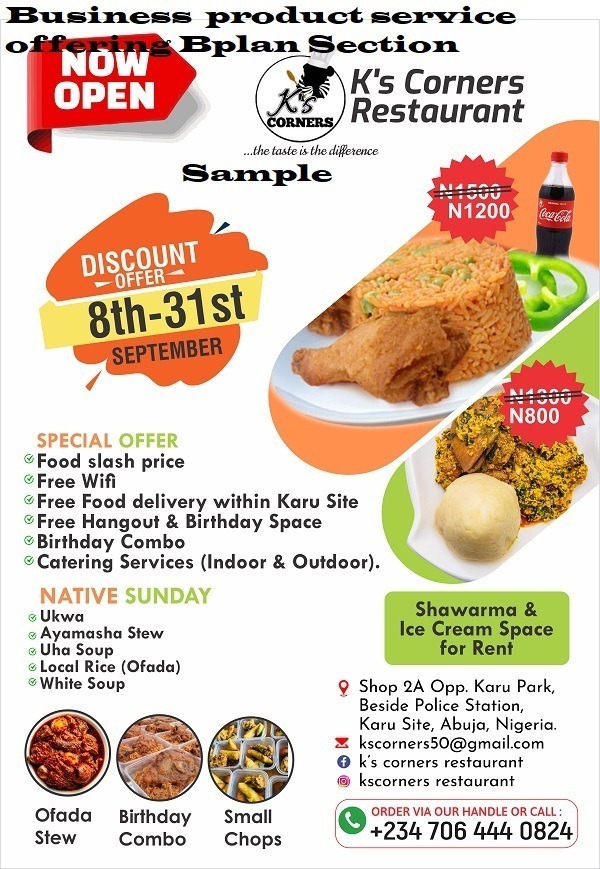 Read Also for How to write Company products & services section with Business Plant Templates
These are necessary reference topics for your entrepreneurial knowledge. Are you ready to visit them for a good read?
How to write Company products & services section with Business Plant Templates
Our business plan offerings:
Are you ready to request any of the following types of business plans from cessummit.com?
Finally, we wish to bring to your notice that Cessummit.com has special business templates for High profile Business plans. Therefore, get Oil & gas, Petroleum filling stations, Cooking gas, Air Travel, Agriculture, and Food processing businesses. Others are for Real Estate, Hotel, Transportation and Telecommunication business, and many more. In our services, we also assist fellow consultants generate a matching business plan financial plan analysis for any type and size of business plan.
And, now, if you wish to get more business plan references visit our website today. Contact us via +234 905 313 0518 or cessummit0518@gmail.com. Thanks for reading through How to write Company products & services section with Business Plant Templates