Business Plan Executive Summary: Sample Executive Summary for Poultry Business Plan – The questions are; what is executive summary for poultry business? And, how do I make a business plan for a poultry farm? An executive summary contains the summary of the key points of your business plan. In fact, in it you should restate the purpose of the plan, the highlight of the major points, and describe the results, conclusions, or recommendations from the body of the business plan.
Sample Business Plan Executive Summary:
Furthermore, in our articles are sample executive summary for poultry farming, free poultry business plan templates and layers business plan executive summary. Among the free poultry farming business plans in Nigeria are business plan for 1000 broiler chickens. As a matter of fact, the executive summary could serve as introduction to poultry farming business proposal
As a matter of fact, a bankable business plan is what you need to access your required funding. Cessummit develops all types, sizes and tenor length of business plan. Our business plan template for palm oil production, rice mill, block industry, distributive business, travel agency business and other service industry are unbeatable. Explore our Bankable Business Plan services offerings for fast growing lucrative profitable businesses today. Contact us on +234 905 313 0518 or cessummit0518@gmail.com to get in touch with us. Check out the following related topics.
Related Topics:
In addition, here are some types of business plan you may need;
Business Plan Executive Summary: Sample Executive Summary for Poultry Business Plan
The Executive Summary:
The following proposal is based on 5 years of experience. It is highly focused and promises to follow a path of prosperity for its owners and staff. It is based on conservative sales figures, and actual sales may be higher. The projections contained herein are authentic and will be used as the budget for the business. ABC FARMS will show a profit immediately and will increase sales and profits each year thereafter.
ABC FARMS is a well-established custom POULTRY FARM. The company is engaged in rearing layer birds leading to the production of eggs, meat and organic fertilizer. ABC FARMS, has recently planned to expanded its production facility beyond its present client base. The company is dedicated to providing the highest quality customer service, meeting the agreed delivery dates, and keeping the sales prices controlled in accordance with ongoing market trends. The focus of this business proposal is to identify future target clients, explain our marketing strategy, improve internal procedures so we can substantially increase profitability, and obtain the funding required to expand the business.
ABC FARMS is located in Karuka in AMAC Area Council of Abuja, FCT, Nigeria. The company is a privately owned corporation and has been operating for nearly 5 years.
The towns surrounding ABCFARMS contain an estimated 20 large livestock farms. However, the entire FCT is an open market once delivery to customers is an option. ABC FARMS would then be in the market to compete for the business of over 200 medium farms.
Business Plan Executive Summary: Sample Executive Summary for Poultry Business Plan
The marketing research and tailored marketing strategy described in this business proposal will result in after-tax profits of N34.8m in Year 1 and increasing to nearly N46.4m in after-tax profits within three years, despite significant new advertising and renovation expenses.
To achieve these goals, ABC FARMS fields needs funding. We are currently seeking a N42m ($100,000 @ N420/$) long-term loan, to be repaid within ten years. This loan will enable us to purchase delivery trucks, a key element of our sales and marketing strategy, initial 10,000-layer birds, build the pen and other poultry equipment. Details of these are given in our fixed assets analysis segment of this proposal.
The business feasibility shows the projected financial and operation feasibilities over the next three years, effective 1st April, 2022. To start with, the following are some of the financial highlights of the projected business operations for the first three years.
Financial Highlights by Year (Ratios)
| | | | |
| --- | --- | --- | --- |
| Period | Year 1 | Year 2 | Year 3 |
| Revenue | N158m | N173.6m | N173.6m |
| Gross Margin | N59.3m | N74.9m | N73.9m |
| Gross Margin % | 38 | 43 | 43 |
| Net Profit | N34.8m | N45.6m | N46.4m |
| Net Profit / Sales – % | 22 | 26 | 27 |
These are shown in the chart below.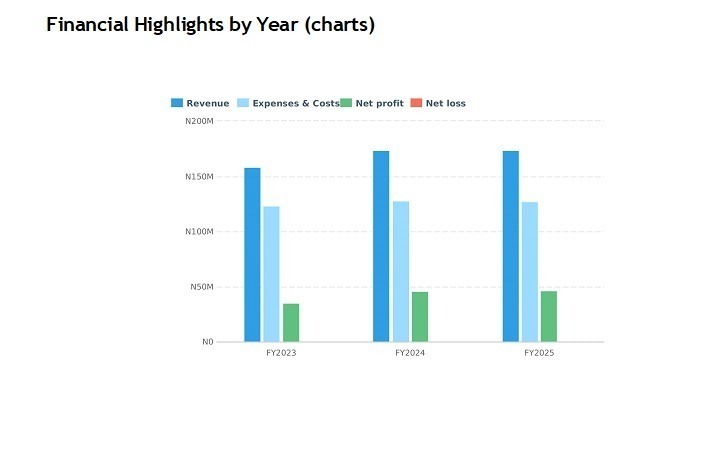 Read Also for Business Plan Executive Summary: Sample Executive Summary for Poultry Business Plan
Summing up on Business Plan Executive Summary: Sample Executive Summary for Poultry Business Plan

As a matter of fact, whether you're a small business owner or entrepreneur, Cessummit has business information to help you take your next step. It's a comprehensive one-stop shop for all you need to kick-start your business. Use this opportunity provided here to make your business work. Call +234 8034347851 or +234 905 313 0518.
Cessummit business plan offerings:
You may wish to request for any of the following types of business plan:
Furthermore, Cessummit has special business template for high profile Business plans. And they are for  Oil & gas, Petroleum filling stations, Cooking gas, Air Travel, Agriculture and  Food processing business.  There are also those for Real Estate, Hotel, Transportation and Telecommunication business and many more. In fact, we also assist fellow consultants generate a matching business plan financial plan analysis. For getting the best business plans visit our website today. Contact us via +234 905 313 0518 or cessummit0518@gmail.com
How you may get help:
Is it true that you don't have need for our services? Business planning is part of our business support services you may be needing. We have designed these business support services for your business upliftment. So, do you need help on how you can develop your business startup Plan? Furthermore, do you have any need for an updated business Profile and Business plan financial analysis? And, for those who need to be trained for CBN/BOI/ NIRSAL MFB AGSMEIS and other loan facilities – then, contact us. And, for business incorporation, with C.A.C. and other incorporation changes for you @ C.A.C. – change of MEMART, Director, Shareholding etc. and annual returns, You can contact us as shown below.
How to contact and follow us:
Finally, may desire any of our services? Then contacts us via +234 9053130518 or email cessummit0518@gmail.com. And if you wish to get more information on this website, use our search button on this page. Follow us also by using our social media buttons on this page. our regards. Thank you. Get recruitment gist here