How to write & Use four types of business plan – What are the 4 types of business plans to note in Business Planning? Does it matter the type of business plan you are developing or implementing? Yes, it does matter. This is because knowing the type of business plan to develop will help you not to mismatch business information and functionalities. This topic is stressing on 4 different types of business plan. The purpose is just to broaden your knowledge horizon on this subject matter.
We also bring to your notice that there are different types of business plan templates at cessummit.com. for all types of business planning. In fact, we provide all types, sizes and purposes of business plan of your choice. You just have to contact us for your copy
Various definitions of business plan:
If you are faced with defining business plan, how do you define Mini business plan, Presnetation business plan, Working Plan or What-if Business plans? You will certainly see busines plan from different perspective. Yes; you are correct. Businessn plan is seen from diffeerent perspectives based on prevailing business situations.
Therefore, the administrators see it as a business roadmap. But the technical person will see it as a document that summarizes for him the operational procedure and financial implications of the business operation. Again, the marketing department see it as a document used to create an effective strategy for business growth. While entrepreneurs may see it also as a document to determine business future financial needs. Yet, others see it also as a document to attract investors and lenders. And the investor sees it as an investment appraisal document. Just read on for more mind blowing knowledge.
Going further, in this article is to present Mini business plan, Presentation business plan, Working Plan and What-if Business plans platforms. These templates/platforms explain what they also may mean to you. It explains how and when to use them. We also give accurate highlight of their various contents and procedure for you to be able to develop one.
How to write & Use four types of business plan
These 4 types of business plan:
The knowledge of business plan is coming down to company budget notes and diaries of achievement. This is the justification for this class of business planning. Generally, these are very short plans, or mini-plans, presentation plans, working plans, and what-if plans. As a matter of fact, each of these require very different amounts of information, labor and result. They are more like what a new hire may easily want to read through compared with an elaborate version of your plan that might be important to a potential investor.
The Mini-plan – Mini Business Plan:
The mini-plan is preferred by many recipients because they can read it or download it quickly to read later on their iPhone or tablet. You include most of the same ingredients that you would in a longer plan. However, you cut to the highlights while telling the same story. For a small-business venture, it's typically all that is needed. For a more complex business, you may need the longer version.
As a matter of fact, no matter the size of your mini plan, it should include a short description of the business. Then, an overview of the market or industry analysis. It must also showcase a review of the products or services the company offers. Finally, it must contain the company objectives. Financial performance and funding plans.
The Presentation Plan:
A business presentation plan is a valuable tool for heads of departments and organizations to successfully introduce their activity objectives or business to a particular audience. That is why many entrepreneurs use this opportunity to share their vision and goals. This is usually prepared to inform and engage the audience and it's easily understandable.
When students face their academic exercise, they may be asked to defend one form of a novel business plan or the other.
This must also be presented as for a business environment. Therefore, presentation business plan must be informative, instructional and arousing. In most cases, therefore, it has to be persuasive and give room for decision-making.
So, remember that in 30 minutes you can cover all the key points and tell your story from concept and mission statement through financial forecasts.
The Working Plan:
A working business plan is a document that gives details of a company's objectives and how it plans to achieve its goals. So, it lays out in a written form a road map for the firm's operations from marketing, financial, and operational standpoints.
So, a working plan is a tool to be used to operate your business. In fact, it has to be long on details. Most of the times this is the type of plan strictly meant for internal use. As such this type of plan does not need some explanation of some known elements. And may not require an appendix with resumes of key executives. And there may not be presented product photos.
The What-If Plan:
What-If plans is an Emergency Response Plan. So, its a written plan that inform others of what the business needs at different circumstances. In fact, it's one of the best methods to anticipate the future and to formulate a strategy. This plan is mostly for internal usage like the working plan described above.
As a contingency plan, looking at various scenarios, it must be planned with certain questions as – what if something happens in the global economy as during CoVID-19? And, what if a new legislation is enacted or an existing one repealed? Others may be questions regarding customer defect, changes in growth or entering a market or product/service demands exceeding supply. And, what if we lose a principal supplier(s)/partner(s)?. Then, what if new technology emerges that make exiting plants obsolete?
As a matter of fact, all these must be articulated in the type plan. And, the plan variables must be worked out in a spread-sheet.
How to write & Use four types of business plan
Business Plan Content:
No matter the type and size of your business plan, remember that the following must be highlighted no matter how brief.
Executive summary
Overview of the company
Management Team
Product & Services.
Strategic marketing plan
Market evaluations
Projected startup/scaling up costs
Financial Analysis showcasing cash flow projections and income and profit expectation
Financial Ratios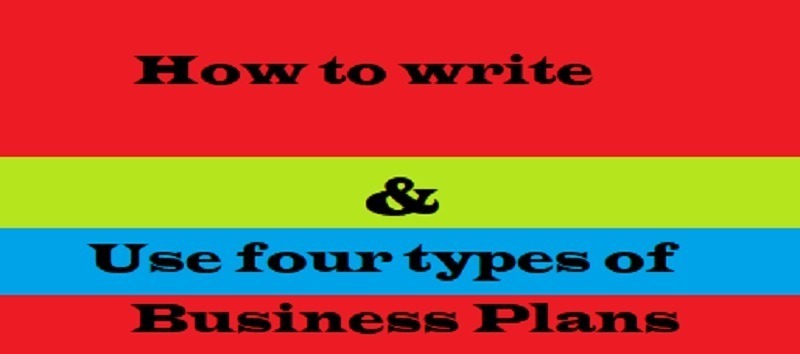 Read Also:
Cessummit business plan offerigs:
These include a variety of business plans, such as
There are different business plan template at cessummit.com. In fact, we provide all types, size and purpose of business plan of your choice. We have some ready-made illustrative sample in this website. You just have to contact us for your copy.
How to write & Use four types of business plan
Related Topics:
Steps in developing business plan
The best type of business plan
Summing up:
What are the 4 types of business plans to note in Business Planning? Here we highlighted Mini business plan, Presentation business plan, Working Plan or What-if Business plans. We also gave details of their usages, requirements and purposes. In deed, there were also details of their contents and how we can partner with you to develop your business plan. And, If you want to be a professional visit here
Was this post helpful?
Helpful articles like this require feedback. So you can send in your comments and ask questions through our comment box below. You can also submit your email addresses. Those following us on our social media platforms get updates. So you can join them. Get inspired here
And, Now, Do you need help?
You may need any of our business support services. They are for your business upliftment. So, do you need help for your Mini business plan, Presentation business plan, Working Plan or What-if Business plans. Any need for an updated business Profile and Business plan financial analysis? And, for those who need to be trained for CBN/BOI/ NIRSAL MFB AGSMEIS and other loan facilities – contact us. Then, for business incorporation, with C.A.C. and other incorporation changes for you @ C.A.C. – change of MEMART, Director, Shareholding etc. and annual returns, You can contact us as shown below.
How to write & Use four types of business plan
How you may contact and follow us:
Concluding, do you desire our services? Here are our contacts; +234 9053130518 or email cessummit0518@gmail.com. And again, to get more information on this website, use our search button on this page. Follow us also by using our social media buttons on this page. our regards. Thank you. Get recruitment gist here