Biz Support – Startup enterprises and operational businesses alike greatly benefit from the indispensable nature of Biz Support services. These services find their place within the dedicated Biz Support category on our website. Hence, this article serves as an introduction to acquaint you with these vital services.
BUSINESS SUPPORT PROGRAMMES & SERVICES
Our Business Support Services are start-up and existing business support services. These are both small, medium, and large business support services. Here is the list of the support services and their importance to your business. Here is your Biz Support format.
You are aware that business needs various professional help starting from the business idea generation to the operations of the business. The professional support services include services/occupations that assist people involved in businesses and help in training/mentorship systems with personal and business needs. So, this means services provided in relation to business or commerce and includes:
Training Programmes
CESSUMMIT uses this medium to train and mentor her various clients who need to stand firm in their businesses and vocations. CESSUMMIT does this in collaboration with some government agencies like SMEDAN, BOI, NEPC, etc. This is to enable our clients to have all the support they need for their business. This entrepreneurship summit does not leave any stone unturned. In the end, you have a certificate that qualifies you to apply for the loan from any financial institution, especially, government-sponsored loan programs.
ICT TRAINING @ Biz Support
CESSUMMIT also takes care of your vocational training in ICT-RELATED BUSINESSES: Website Design, E-Commerce Trading Site Design, Blogging, App Design – Android & IOS, Software Design, and Graphic Designs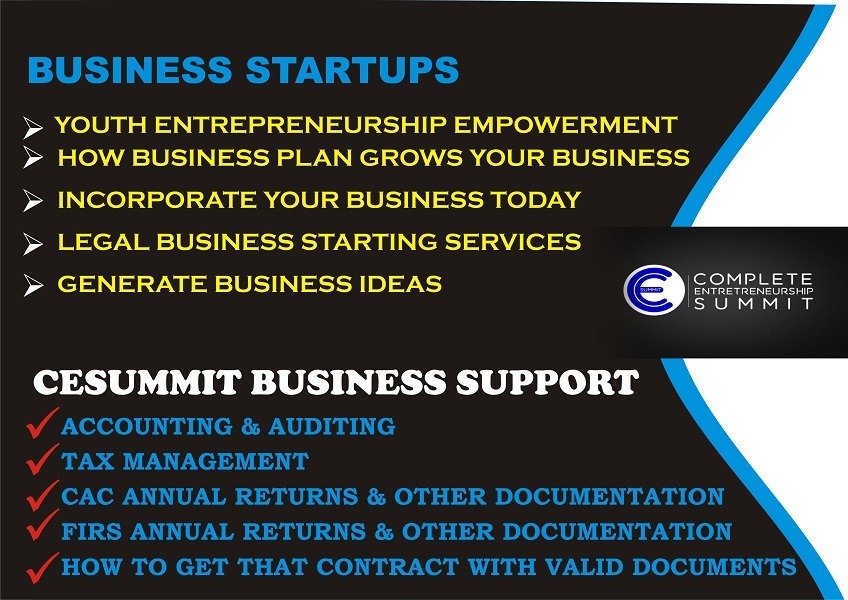 Business Plan
CESSUMMIT has decided to place emphasis on this because many businesses fail for a lack of planning. Our model of business plan will help you kick-start your business smoothly. And for existing businesses, this business plan will help you articulate your business pathway properly. Because we get you involved in the preparation of the business plan, you will not only learn how to do it for yourself, you will also know how to interpret every business plan.
Feasibility Analysis
This may be a separate assignment or part of your business plan. But whichever way, the feasibility analysis segment is the in-thing. It encompasses all business operations and financial projections. The breakeven analysis lets you have a glimpse of your capacity utilization and its consequences on your business operations. Then comes the performance ratios analysis, investment payback analysis, and so on.
C.A.C. Documentations @ Biz Support
This is the only way to legalize your business. Be it a sole proprietor or a limited liability company. Therefore, if you don't have a CAC registration number for your business, you may not be allowed to do certain businesses in Nigeria. So, we train you on how to go about this and in fact, help you register your business. The concept note we write for your business, and which we incorporate in your Memorandum of Association will give you a large scope of business operation.
Tax Management
With your tax clearance certificate, you can do good business in Nigeria. This is what we will help you do. Tax management ensures you are tax compliance the right way. With us on your side here, your tax commitment will be well taken care of.
Accounting & Auditing
This is, every form of financial accounting service you desire. As external auditors, we will do our best for you. And for the internal control system, we will be sure you have a controllable internal accounting and management system.
Commercial documents for Biz Support
These are documents you require to do your business. We will educate you on how to go about them. We will also assist you in processing them. Such commercial documents are also called compliance certificates. Your tax clearance and CAC annual returns certificates are part of it. In fact, your export registration certificate and trademark certificate is inclusive. Processing your PENCOM, ITF, and NSITF compliance certificates is very necessary for your business to thrive today in Nigeria.
Biz Support Services:
In the world of business, support services play a critical role in assisting startups and established businesses alike in achieving their goals and maintaining smooth operations. These services are often categorized under the umbrella term "Biz Support" or Business Support. They encompass a wide range of services that cater to various aspects of a company's operations, helping entrepreneurs and business owners focus on their core activities while leaving the specialized tasks to experts. In this article, we have introduced you to some essential Biz Support services that can significantly contribute to the success of your business.
Yet, in another approach here are the biz support services that you may desire from us:
Financial Services: Managing finances is a cornerstone of any business. Financial services in the Biz Support category include accounting, bookkeeping, tax preparation, and financial analysis. These services ensure that your financial records are accurate, taxes are filed correctly, and you have a clear understanding of your company's financial health.
Legal Services: Navigating the legal aspects of business can be complex. Legal support services offer guidance in areas such as business incorporation, contract drafting, intellectual property protection, and compliance with industry regulations. Having access to legal experts can help you avoid legal pitfalls and protect your business interests.
Human Resources (HR) Services: Managing a workforce involves various HR tasks, including recruitment, payroll processing, employee benefits administration, and compliance with labor laws. HR support services can help streamline these processes, ensuring that your employees are well taken care of and your business remains compliant.
Marketing and Digital Services: Effective marketing is crucial for attracting customers and growing your business. Marketing support services encompass digital marketing, social media management, content creation, branding, and website development. These services can help you establish a strong online presence and reach your target audience effectively.
IT and Technical Support: In today's digital age, businesses rely heavily on technology. IT support services offer assistance with setting up and maintaining IT infrastructure, cybersecurity, software development, and troubleshooting technical issues. Reliable IT support ensures that your business operations run smoothly without disruptions.
Administrative Services: Administrative tasks can consume a significant amount of time and resources. Administrative support services cover areas such as virtual assistance, data entry, appointment scheduling, and travel arrangements. Outsourcing these tasks allows you to focus on strategic aspects of your business.
Consulting and Advisory Services: Business consultants provide expert advice on various aspects of your business, such as strategy development, market research, and process improvement. Their insights can help you make informed decisions and enhance your business's overall performance.
Supply Chain and Logistics Services: For businesses involved in manufacturing or retail, managing the supply chain and logistics is crucial. These services help optimize inventory management, order fulfillment, shipping, and distribution, ensuring products reach customers efficiently.
Training and Development: Investing in employee training and development enhances their skills and knowledge, leading to improved productivity and job satisfaction. Training support services offer workshops, seminars, and online courses tailored to your business's specific needs.
Financial Funding and Investment Services: Startups often require funding to get off the ground, while established businesses may seek investment for expansion. Financial funding and investment services connect businesses with potential investors and provide guidance on securing capital.
In general, the Biz Support category encompasses a wide array of services that are indispensable for startups and established businesses alike. These services cover financial management, legal guidance, HR support, marketing, IT assistance, administrative tasks, consulting, supply chain optimization, employee training, and financial funding. By leveraging these services, businesses can streamline their operations, mitigate risks, and focus on growth and innovation. Whether you're just starting out or looking to enhance your existing business, exploring the offerings within this website's Biz Support category can provide you with the resources you need to succeed.
In conclusion
our goal is to support your business in any way we can. Contact us today through cessummit0518@gmail.com or call 09053130518 during working hours only.