How to write Company Description Segment with Business Plant Templates – Are you interested in writing a business plan business description? So, how do you write a business description of a business plan and what goes into the description segment? In a business plan, there are segments covering Executive summary, Mission statement, Market analysis and Financial plan among others. Other names for business description are company overview, company profile and company history. It's also called company summary.
Company/Business Description:
So, in this writeup are company description business plan example. Then are business overview example, company profile and company history of a restaurant business. In cessummit.com you get expert tips to take your business to the next level. Therefore, we encourage you to read our articles, understand and follow the handful of strategic ways to grow your business. There are also hot, profitable and untapped business growth ideas in Nigeria.
Company Description Segment illustrated:
Company description segment of the business plan is very key to selling yourself/business to your audience. So, take time to honestly bring to your audience notice what you are and what will be up to especially for a scaling up business. Here is an illustrative example.
How to write Company Description Segment with Business Plant Templates
Company Ownership:
K's Corners Ltd is a privately owned Nigerian company. It was duly incorporated as a Limited company in 2021. The shareholding is: Faith 25% – Udo Fry, 25% – King Chi 25% – Dora Bon, 25%.
Faith and Udo have more than 10 years of experience in the food industry. In fact, the two are currently employed as Corporate Staff of Anambra Fries, Enugu.
Faith holds an MBA degree from University of Jos. She is a true entrepreneur by heart. Her latest entrepreneurial project is a Bid store in the heart of Onitsha town.
Udo holds a BA degree in Graphic Design from the Abuja Scholl of Arts. AS a matter of fact, his projects are widely varied from brand design to brand development of several reputable companies.
Furthermore, King Chi holds a MS degree from Sausage Institute Achida. He completed several projects and served as project manager for multi-national companies in Mafara, Zamfara state Nigeria..
On the other hand, Dora Bon holds a BS degree from Suya University Karimu, Abauja FCT. She majors in Management and Information Technology. Prior to his return to Nigeria, he has held several management positions in a U.S.-based IT company.
How to write Company Description Segment with Business Plant Templates
Company Locations and Facilities:
K's Corners Ltd is located at Karu by Karu Police station, Karu, Abuja FCT. Our location range in size from 50 – 70 meter square and will seat from 40 – 50 guests. In fact, our head office location will be on the larger end of this range. All other of our locations will follow this pattern. In fact, our locations will feature its own originality in merchandise display and other brand building attributes. In fact, we will equip our outlets with modern furniture and aim for cleanliness and an open feeling.
Meanwhile our space selection are chosen based upon the following criteria:
Community size: minimum of 600,000 people within a radius of 8 kilometers.
Tourist destination.
Easy access.
Large percentage of teenagers in the community.
All of these qualities are consistent with K's Corners Ltd goal of providing a top quality fast food experience. In fact, our desire is that "word-of-mouth" will be our best form of marketing. This is because if our customers value our brands as something exciting they cannot wait to tell their friends and neighbors.
K's Corners Ltd compete favorably with several other fast food joints within our market environment. These include Chicken Republic, Celebrities' Fried Rice, Blooming Chicken, Dum Sticks and Mama Kass Kitchens
What or who is Complete Fries?
K's Corners Ltd sells majorly African dishes. It also showcases chicken fries, fish fries in roles with a choice of sauce. We use the concept of modern Local and intercontinental dishes and Fries, where the fries are all made from fresh slaughtered chickens and fishes and fried twice. Our outlet in other parts of Nigeria also provide excellent and friendly customer service to support the ambience of fun which is energetic to youthful lifestyle.
Young stars environment:
Our environment is very conducive for young people. In fact, we have imitated successful establishments in this regard. Such establishments as In & Out Restaurant, Watch Your Mouth Restaurant and Everyday Food Restaurant are our benchmark. Our core target market are for those between 25 to 65 years of age. In fact, our store will feature display cooking of our featured modern African dishes and Fries brand from cutting to frying. We also make available for our customers to read our in-house brochures in regards to all knowledge about our brands and our featured sauces. In fact, our serving halls is decorated with fast food settings, such as a bright counter and display menu on the wall.
Brand of Food:
Our vision is quality food. For this matter our restaurant outlets offer nothing but freshly fried K's Corners fries brands, sandwiches and variety of unique blend sauces. All of these are served with old-fashioned home-style care.
Operating Time:
In fact, we are open everyday. from 8 am to 9 pm. However, we open on Sundays at 12noon and close by 9pm.
Assorted types of food:
The dream is variety, variety and variety. Therefore, to effectively make a change in varieties a different selection of sauces will be featured every three months. In fact, we will also change our Sokoto Fura flavors to accompany our fries.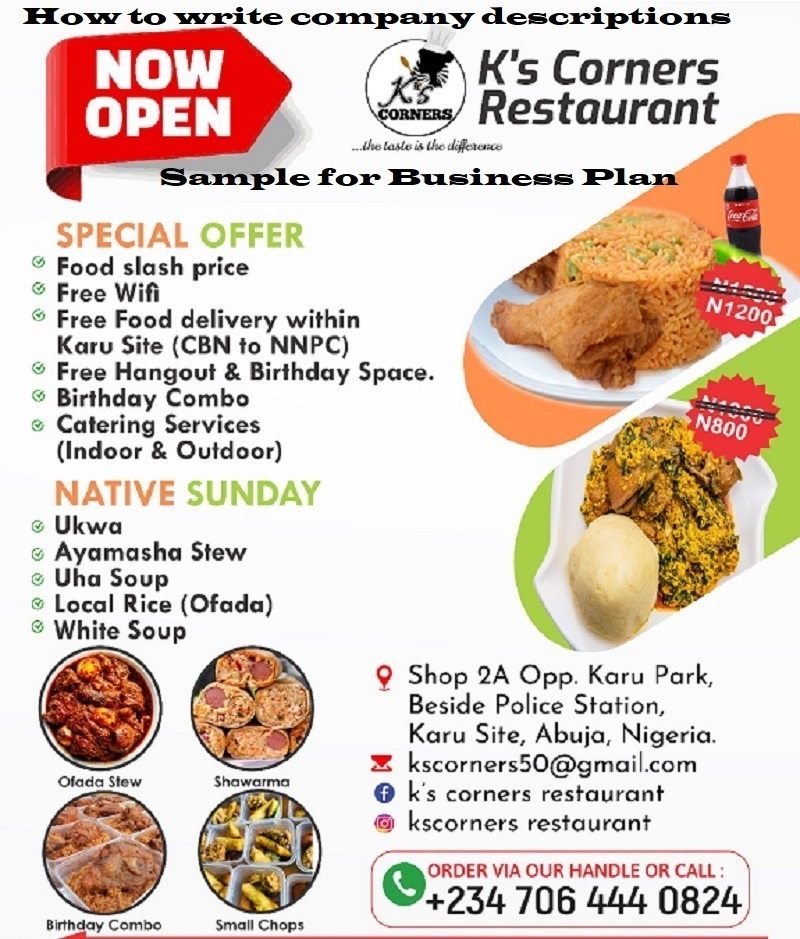 Read Also for How to write Company Description Segment with Business Plant Templates:
These are necessary reference topics for your entrepreneurial knowledge. Just visit them for a good read.
Our business plan offerings:
It's important you request for any of the following types of business plan from cessummit.com:
Finally, we bring to your notice that Cessummit.com has special business templates for High profile Business plans. There are those for Oil & gas, Petroleum filling stations, Cooking gas, Air Travel, Agriculture and Food processing business. Others are for Real Estate, Hotel, Transportation and Telecommunication business and many more. In fact, we also assist fellow consultants generate a matching business plan financial plan analysis. And, now, for getting the best business plans visit our website today. Contact us via +234 905 313 0518 or cessummit0518@gmail.com