AGSMEIS Loan Training is Ongoing Now
AGSMEIS Loan Training is Ongoing Now: Associated with this are the AGSMEIS Loan application procedures. In this regard you need to undergo an Entrepreneurship Development Training through our centre. Therefore, to be able to do this you need AGSMEIS training registration through our training centres.
AGSMEIS TRAINING:
Furthermore, after the training you will need to follow the admission and profiling procedure on the NIRSAL AGSMEIS Loan application platform. Here, you will need the details of the loan application form. Thereafter, you need the AGSMEIS loan business plan. Then the uploading of the Business Plan and the portal registration confirmation to prepare for the interview questions.
Related Topics For AGSMEIS Loan Training is Ongoing Now:
These related topics will help you understand more about this AGMEIS loan.
Available Types of Training:
As a matter of fact, AGSMEIS Loan Training is Ongoing Now. And there are majorly two types of training methods. These are the Physical and Online Training.
Physical Training:
This training is the type whereby you receive instructions, coaching and illustrations by an instructor in our centre utilizing our training manuals aided by ICT facilities like projectors.
Online Training:
On the other hand, online training is a virtual classroom. Here a student can see and hear the teacher via the video/audio stream. The Zoom model being used is more of a physical classroom model. In fact, this medium makes it possible for the students to be able to see and hear the teachers. As a matter of fact, they will see and hear the other students and interact meaningfully.
For more explanations, an online training or virtual school teaches students perfectly through the internet. In fact, Zoom model ensures many of the benefits provided by a physical school apply. Therefore, it also provide learning materials, live online classes, self-paced courses, online exercises, web forums, tests, etc., but delivers these through the internet.
Questions Answered:
On this topic we have been able to address the following issues. You can use them as a revision exercise in understanding this post.
What is the training all about?
What is the online training all about?
How physical training works.
Our Training Centre
And, what are the benefits of online training?
Types of training
Why online training is better
Disadvantages of online training
To cap-up, online training also known as computer based training (CBT), distance learning, or e-learning, online training is a form of instruction that takes place completely on the internet. In every aspect of it, it involves a variety of multimedia elements. These include graphics, audio, video, and web-links, which all can be accessed through one's internet browser using ones computers or Android phones.
Distance Not a Barrier forAGSMEIS Loan Training is Ongoing Now:
This arrangement of using two training models is to take care of everybody. Just as you know, with internet distance is not a barrier now. So, no matter where you reside in Nigeria, contact us for your training. There is a suitable training programme for you. We have done for many from many parts of Nigeria already.
Our Collaborations with SMEDAN:
No other entrepreneur development agency can beat SMEDAN in Nigeria. This is the number one entrepreneurship development agency in Nigeria. We are happy to announce to you that SMEDAN is our partner in this project. In fact, all the resource persons are provided by SMEDAN.
Therefore, if you pass through our training centre, physical or online, with SMEDAN entrepreneurship development training certificate, you stand a better chance to obtaining this loan. Therefore, contact us today.
Training Timing:
Furthermore, the training is more like a weekly thing. And, where that is not possible the second week must hold. This is to make sure you are not delayed in your quest for funding your business.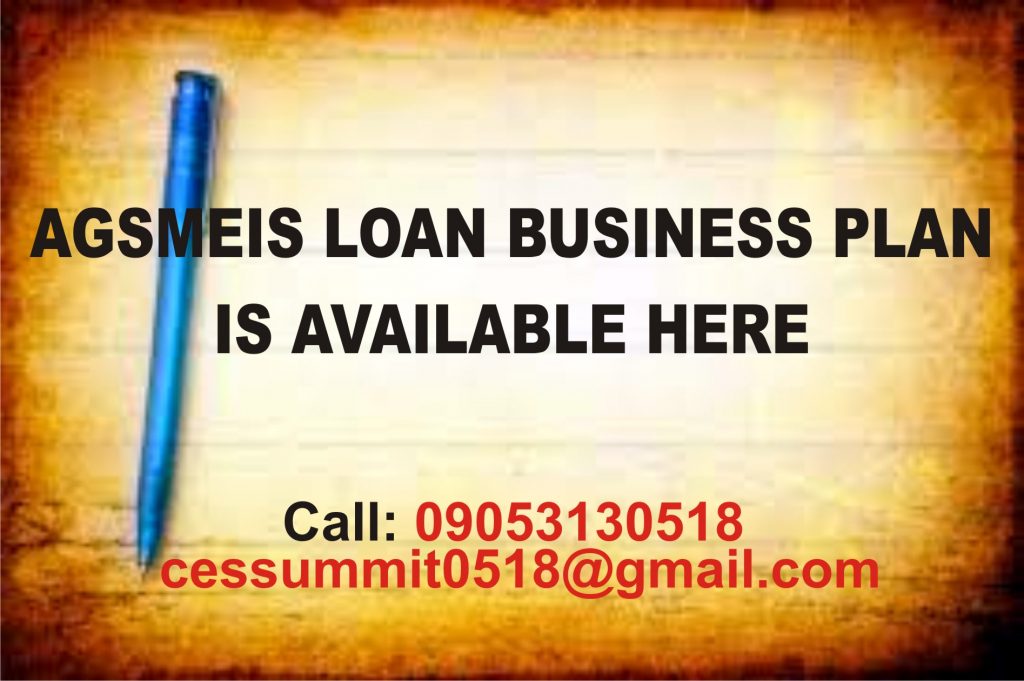 How to enlist in the training:
This is simple. Contact us on 09053130518 or 08121687036. You can also send us mail through completefmc@gmail.com or cessummit0518@gmail.com
AGSMEIS Loan Training is Ongoing Now – AGSMEIS Loan Application Process:
It's our responsibility to undergo this process for you if you so desire. Therefore, with the training certificate we get you admitted into the loan application portal and do your profiling. After these, we will also write your business plan if you so wish. You need to contact us for more details.
Our Services for this:
In conclusion, there are many things we can do to help you in this scheme. Therefore, we will organize your
Training – Online or Physical
Application process
Business plan assumptions
Business plan development
And Business incorporation – if you need one
Generation of business ideas for this programme.
Thanks for reading through. If you enjoyed this post you can bookmark, share, like and comment. Please, let others know how to benefit from this scheme. Thanks.