Online Training for AGSMEIS Loan is Ongoing
Online Training for AGSMEIS Loan is Ongoing. This is the latest news on AGSMEIS loan scheme. In fact, there is an ongoing AGSMEIS training registration in our training centres now. Then comes your business plan development. And, finally, you are onto AGSMEIS portal for registration confirmation. These are the services we offer you. As a matter of fact, with the business plan we prepare for you, we get you ready for the loan interview.
As a matter of fact, do you have questions concerning AGSMEIS loan processes? Are there facts you want to know about its operations? This website gives you solutions to all of these. Just click here.
This write-up answers questions like;
How do I register for AGSMEIS loan?
Where can I access a loan without collateral in Nigeria?
How can Complete Full Marks Consultants Ltd assist me process my AGSMEIS loan?
What is Nirsal microfinance bank all about?
Is SMEDAN a preferred EDI in Nigeria?
Where do I undertake an online training for AGSMEIS loan?
I implore you to read on to get answers to these your challenging questions.
Mandatory Training: Online Training for AGSMEIS Loan is Ongoing
AGSMEIS loan is structured with a compulsory entrepreneurship development training. Therefore, in collaboration with SMEDAN we organise this online training and prepare you to access the loan.
The Mandatory training for entrepreneurship development course modules include training manual with elaborate entrepreneurship development topics. Some are basic business skills training topics for start-ups. However, generally the training topics are relevant for both new and existing entrepreneurs.
As a matter of fact, this section of the post answers such questions as;
What is the need of training and development for entrepreneurship?
What is entrepreneurship development training about?
The Entrepreneur Development Training Programme:
As a matter of fact, each entrepreneur has different level of capacity, ability and skills. However, where there are deficiencies or inability to realise a business dream, Entrepreneur Development Programme helps them inculcate the needed entrepreneurial skills. In fact, our training helps them learn these skills and make them able to recognize their capabilities and start thinking about building their dreams to reality. This is because sometimes, people may have skills that requires polishing or incubation. In fact, Entrepreneurship Development Programme helps entrepreneurs develop essential skills required to run businesses successfully.
Do you also know that many budding entrepreneurs are highly-educated but lack the discipline required to start a business?  As a matter of fact, entrepreneurship development programme helps them understand the importance of entrepreneurial discipline required to develop a sense of responsibility for managing businesses.
Additional Information;
Understanding the objectives of a business is also an important aspect of business start-ups. This will also help them grow gradually by fulfilling the set objectives. In fact, the training will also help them in finding the right dedicated professionals who can work towards the business objectives.  As a matter of fact, achieving entrepreneurial goals is an art that entrepreneurs develop with training. In summary this training programme trains the aspirants to determine the objectives of their business and to work individually.
Further Objectives of Entrepreneur Development Training Programme:
Furthermore, the budding entrepreneurs need to develop a wide vision about the industry they are working in. It will also help them identify the competition and latest trends in them. Do you know that new competitors keep entering into the industry to start a new trend always? This is why vision comes with education and training. In fact, this training equips the entrepreneurs with apt skills required to study the market competition and how to stay afloat.
Do you also know that business is a discipline and requires rules and regulations to operate? This is why it's important to set certain rules, regulations and procedures for running the business successfully. Our Entrepreneurship development programme will train you to make prefect rules and guidelines on how to follow them.
What about being a responsible corporate citizen? This training will help you know and understand the relevant regulatory authorities overseeing your industry.  There are always a highlight of relevant laws government industry activities. The corporate affairs commission requirements, NAFDAC certifications, Export regulatory body operations, tax management etc. are all part of the training module.
Online Training for AGSMEIS Loan is Ongoing Continues:
On the other hand, as you can see, our training program aims at enhancing managerial capacities in our trainee entrepreneurs. We make them captains of their organizations and empower them on how to manage their businesses. We make them able to be efficient in leading their team. In fact, we make them able to motivate their team members and set examples for them to follow.
A Personal Dream Online Training for AGSMEIS Loan is Ongoing
So, if your dream is to;
Become a successful entrepreneur,
Run your business successfully.
Access CBN/NIRSAL AGSMEIS loan,
Then call us today to enroll for your Entrepreneurship Development Training Programme.
Online Training:
In continuation, online training is a virtual classroom. Here you can see and hear the teacher via the video/audio stream. As a matter of fact, the Zoom model being used is more of a physical classroom model. That is, this medium makes it possible for the you to be able to see and hear the teachers. In fact, there is the capacity to see and hear other students and interact with them meaningfully.
Furthermore, an online training or virtual school teaches you perfectly through the internet. In fact, Zoom model ensures you enjoy many of the benefits provided by a physical school. As a matter of fact, it also provides learning materials, live online classes, self-paced courses, online exercises, web forums, tests, etc., but delivers these through the internet. These are what we make you enjoy in our online trainings.
Training Time Table: Online Training for AGSMEIS Loan is Ongoing
Furthermore, the training comes up weekly. This is to make sure you are not delayed in getting funding for your business. More so, it has been scheduled to take care of both the working class and the traders. Therefore, the online trainings are now evening thing.
Reasons for Online Training:
There are good reasons for doing this training online, these include the fact that online training;
Is good during COVID-19 period
Takes large coverage
Candidates from far and near benefit the same
Less expensive to manage
And others.
Other forms of training available: Online Training for AGSMEIS Loan is Ongoing
The other form of training is the Physical Training. Physical training is the type whereby candidates receive instructions, coaching and illustrations by an instructor in our centre. Here our training manuals aided by ICT facilities like projectors are employed.
To be in the next batch, call us now or send email to our contacts below.
READ ALSO:
AGSMEIS Loan appellation Criteria:
There are criteria for this loan application. In fact, you must belong to any of the following industry sector to be eligible.
    Agribusinesses – Any types
Education
Health Care,
Services – in Hospitality, Restaurants, Catering, Services, etc.
ICT,
Production/manufacturing Industry,
Mining,
Creative Industry such as Fashion Design, Crafts, Entertainment, etc.
And more.
Did you go through the list of business activities above? Did you get yours included? Look, we can help you generate a suitable business idea. That is part of our professional services.
Are you having problem growing your business or diversifying? Then, join our next training group.
The Requirements: Online Training for AGSMEIS Loan is Ongoing
For Online Training for AGSMEIS Loan is Ongoing, thanks for reading up to this point. I know you have enough information already. My prayer is that these information will help you make good business decisions. So, arm yourself with the following requirements for AGSMEIS loan.
The requirements include;
 Obtain, fill and return a duly completed application form.
Supply your Bank Verification Number (BVN).
Submit a Certificate of Training from recognized Entrepreneurship Development Institution (EDI). Or evidence of membership of organized private sector
Present evidence of registration of business name or certificate of incorporation, where applicable. 
This is an announcement for you and others. Once you meet up with these requirements, contact us on how we may be of good help to you.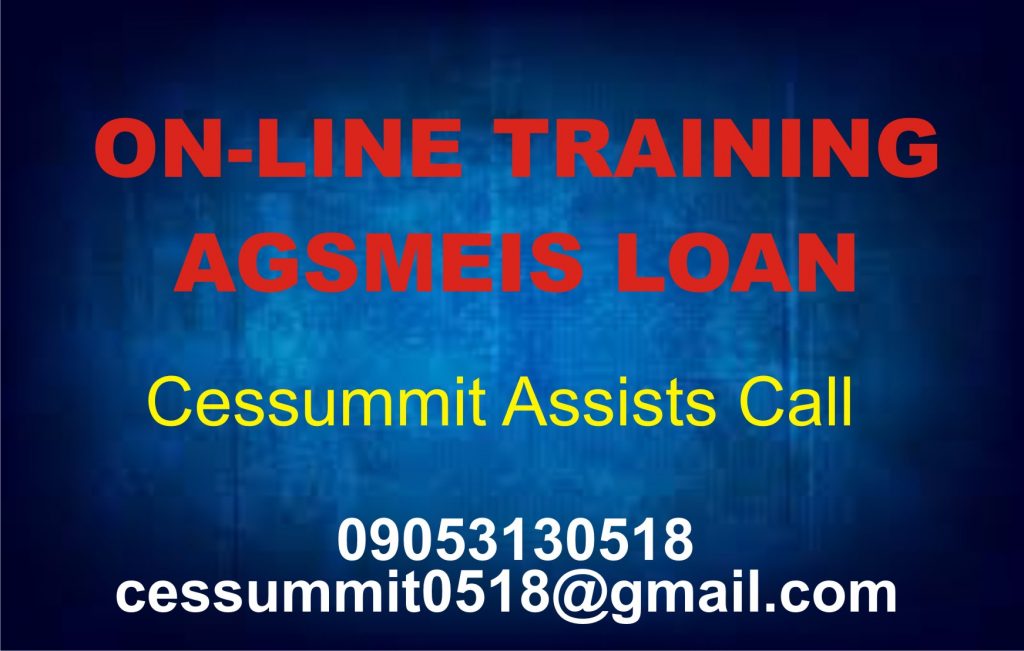 Now, get help from us:
We offer you the following services for this AGSMEIS loan programme.
facilitate your entrepreneurial training with SMEDAN
In addition, we develop a suitable business plan for your business
We register your business name or company with CAC where applicable
We will also ensure you are captured in both SMEDAN AND NIRSAL Microfinance bank data base to facilitate your loan interview. This loan interview is where you defend your business plan for the loan application.
Our parent organisation, CFMC Limited is a firm of chartered accountants, and management consultants. It's an accredited consultant with CAC, SMEDAN and other government agencies.
In conclusion, Online Training for AGSMEIS Loan is Ongoing. Contact us for your AGSMEIS SMEDAN certification training. We hold at least a session of training each week. We carry out both physical and on-line training schemes for this programme. So, you can enroll from wherever you are residing in Nigeria.
Do contact us immediately. Dial this number immediately 09053130518 or 08121687036. You can also send us mail through completefmc@gmail.com or cessummit0518@gmail.com. In fact, this is how we take care of entrepreneurial challenges of businesses.