Process Your NIRSAL MFB AGSMEIS Loan Here
This is a complete guideline for AGSMEIS loan in Nigeria. Requirements covered in this post include details on AGSMEIS loan application scheme with application form. Others include AGSMEIS training centres, training registration and loan interview questions. We also give latest news on AGSMEIS loan in Nigeria. In fact, this is how to Process Your NIRSAL MFB AGSMEIS Loan in Nigeria.
Relevant Questions:
As a matter of fact, do you want to process your NIRSAL MFB AGSMEIS Loan? Here are the information and procedure to do so. Are you a Micro, Small and Medium scale enterprise in Nigeria? This loan scheme is for you. And we are ready to help you achieve it. Do you know that NIRSAL MFB offers loans to SMEs at 5% interest rate. This is also how to apply for the AGSMEIS SME Loan.
Who is eligible for AGSMEIS?
In fact, MSMEs in the following sectors are eligible. Therefore, check if you are eligible here.
Agricultural businesses
Education
Health
Services (Hospitality, Restaurants, Catering, Services, etc.),
ICT
Manufacturing/Production
Mining
Creative Industry (Fashion, Design, Crafts, Entertainment, etc.)
Other businesses as determined by CBN
What are the features of AGSMEIS On How You Process Your NIRSAL MFB AGSMEIS Loan?
These are the major features of the loan scheme.
Interest Rate: 9%
Tenor: 7 years
Moratorium: Maximum of 18 months on Principal and 6 months on Interest
And, what are the steps to apply for the loan?
To get ready for the loan application, get trained by any of the CBN certified Entrepreneurship Development Institute (EDI). For instance, SMEDAN.
In this connection;
Attend the training session and obtain the certificate of attendance.
Liaise with the EDI to upload your information on portal.
Prepare your business plan.
Upload your business plan on the online registration website.
Get ready to be called for an interview regarding your business.
And when you are through and disbursements start, loans are paid into the account of beneficiaries.
What are the requirements of AGSMEIS loan?
Take time to go through these requirements.
Duly completed application form with your full bio-data.
Certificate of training from a CBN certified Enterprise Development Institution
Letter of Introduction from any of the following: Clergy, Traditional Ruler, Senior Civil Servant etc.
How long before funds are received?
As a matter of fact, this loan scheme is designed to be easily accessible. In fact, the entire process is automated. Therefore, in average, from application submission to disbursement should take you about eight (8) weeks.
Process Your NIRSAL MFB AGSMEIS Loan Here: What specific information are required?
The business plan must show specific information on the under listed elements.
List of your desired and existing Equipment
List of your desired Working Capital
A comprehensive Asset List – broadly this group comprises both the equipment (fixed assets) and the working capital (current assets).
Product and Services – your product brands, composition and their prices.
Your business Competition Analysis – you must be able to identify your competitors. Name them here and indicate how they become your challenges.
Then, your Management Team – This is where you show your managerial capability to operate. Name them with their position and qualifications.
In addition, is your SWOT Analysis – Tell the financier what your strength, weakness, opportunities and threats are. Conclude by telling your them how you will optimize your strength and opportunities, overcome the weakness and the threats.
Furthermore, is the Financial Model – This is an automated financial model. Just go one keying in the variables that will produce the parameters automatically.
Marketing Strategies – in addition, here is where you will tell everyone how to drive your turnover and actualize your desired projections.
Process Your NIRSAL MFB AGSMEIS Loan Here
READ ALSO:
What we do for you & how we assist you:
It's our duty as Entrepreneurship Development Institute (EDI) to guide you through out this process. Therefore, we will train you, develop the business plan. We will also provide you with other business support services commercially. These include:
Training facilities
Profiling Candidates online
Registering your businesses at CAC where applicable
Help generate business ideas for you
Developing a suitable business plan assumptions for your business
Build your business plan for whatever project and program
Auto generated financial analysis, including the feasibility and breakeven analysis.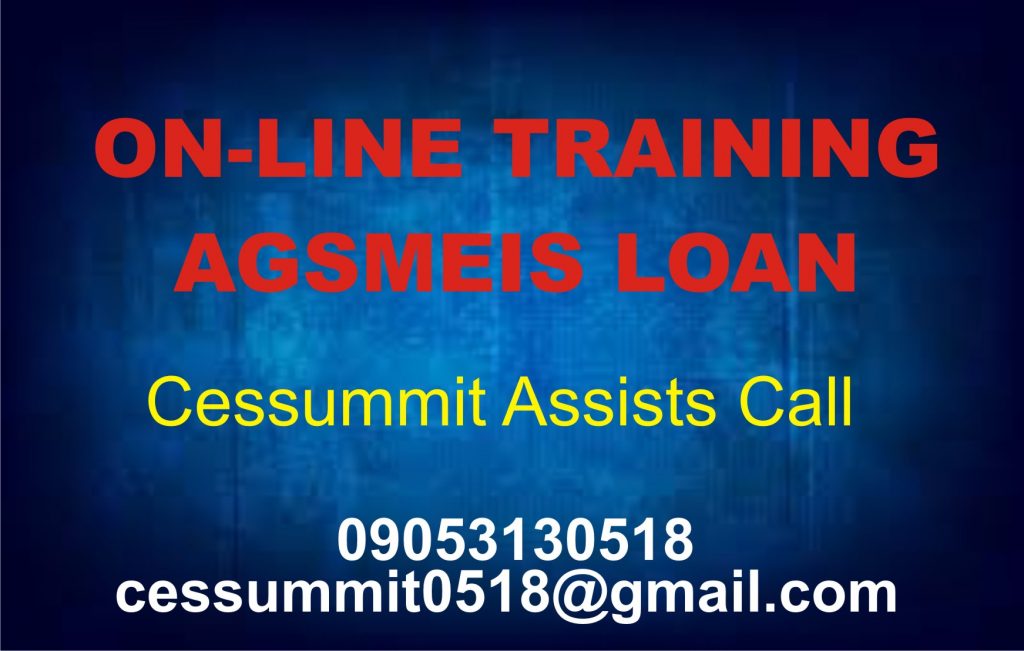 Finally, CESSUMIT runs a complete Entrepreneurship Seminar to help individual entrepreneurs and organizations learn how to:
Avoid business failure
Generate business ideas,
Document business start-up processes and incorporation,
And set up good internal control system – cost analysis procedures
Write and implement Business Plans.
Contact us for how to Process Your NIRSAL MFB AGSMEIS Loan:
In conclusion, as chartered accountants, and accredited management consultants, we register your businesses at CAC. In addition, we audit and produce your annual financial statements and make your tax returns. Just contact us immediately through +234 9053130518 or email cessummit0518@gmail.com.
And finally, did you gain from this write-up? If yes, then, bookmark this page and click on any of our social media buttons to reach your friends. Follow us, like us also on our social media platforms for your regular updates. Thanks for visiting here.