Biz Start-up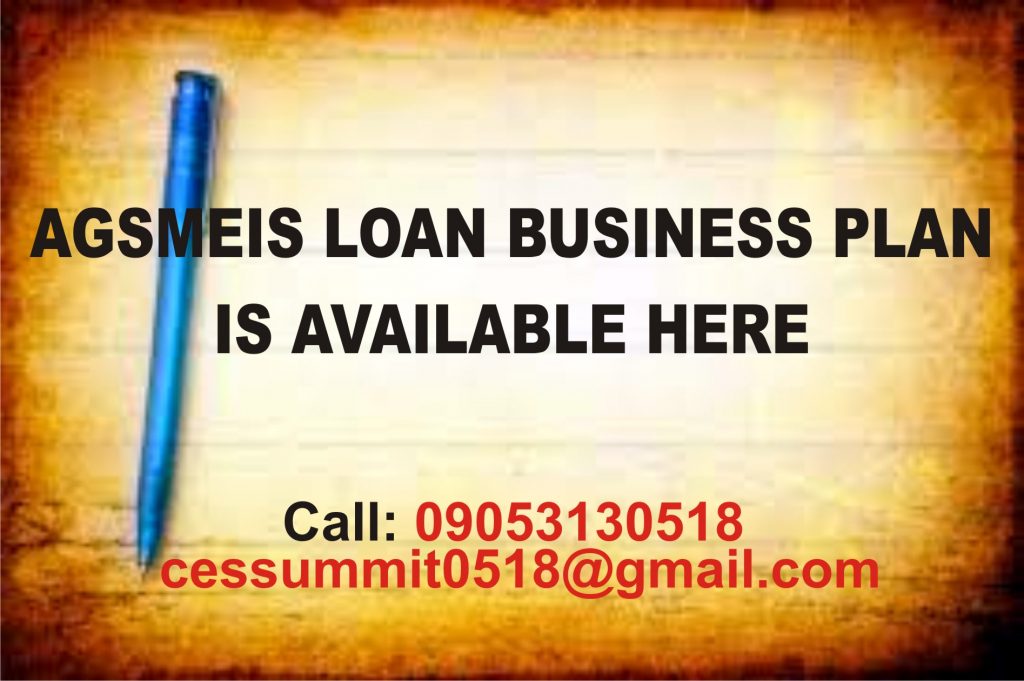 Register for AGSMEIS loan online training
Do you want to empower your business?  Are you interested in increasing your fixed asset  and working capital base? Here are the process you must follow to achieve them. Therefore, if you want to register for AGSMEIS training through a training centre, here are what to do. Register for AGSMEIS loan online training here.
Related Questions are:
These may be the questions bothering you. But today we assure you that your desire to enlarge your business capacity is within you now. The decisions you make now matters to realizing your business life dream henceforth. So, is your question;
How do I apply for a NIRSAL agricultural loan?
How do I access my CBN AGSMEIS loan?
What is the full meaning of AGSMEIS?
How can I get a loan for agriculture in Nigeria?
In fact, our training centre provides solutions to all of the above questions.
Our Online Training Model:
Our online training is a synchronized online training model. Synchronous Online Learning is an instant messaging interactive Online Learning. Synchronous e-learning involves online studies through chat and videoconferencing. This kind of learning tool is real-time. It is like a virtual classroom that allows students to ask, and teachers to answer questions instantly, through instant messaging, which is why it is called synchronous
AGSMEIS Loan Application Scheme:Register for AGSMEIS loan online training
We provide you detailed guide on how to access this CBN AGSMEIS Loan. It's a free Collateral CBN AGSMEIS Loan for SME and agriculture value chain businesses.
AGSMEIS loan application form training registration is on-going now. However, the AGSMEIS loan application requires a business plan.
Register for AGSMEIS loan online training – Other Requirements:
These requirements are essential. As a matter of fact, we will guide you on how to apply them in this loan application. Therefore, you need;
Entrepreneurship training certification by an Enterprise Development Institute.
Duly completed application form.
Bank Verification Number (BVN).
Certificate of Training from recognized Entrepreneurship Development Institution (EDI)
Evidence of membership of organized private sector
Letter of Introduction from any of the following, Clergy, Village Head, District Head, Traditional Ruler, senior civil servant, etc. (for individuals/ micro enterprises only).
Evidence of registration of business name
Certificate of incorporation
RELATED TOPICS:
How to Apply:
The application fee for this training is N10,000 per candidate. Payments are made through complete full marks consultants limited GTB account No. 0260563155.
After payment you will supply us with your mobile phone number to link you up to your group for the training. The training last 3 days. Then comes other development services we can offer you, if you desire them from us.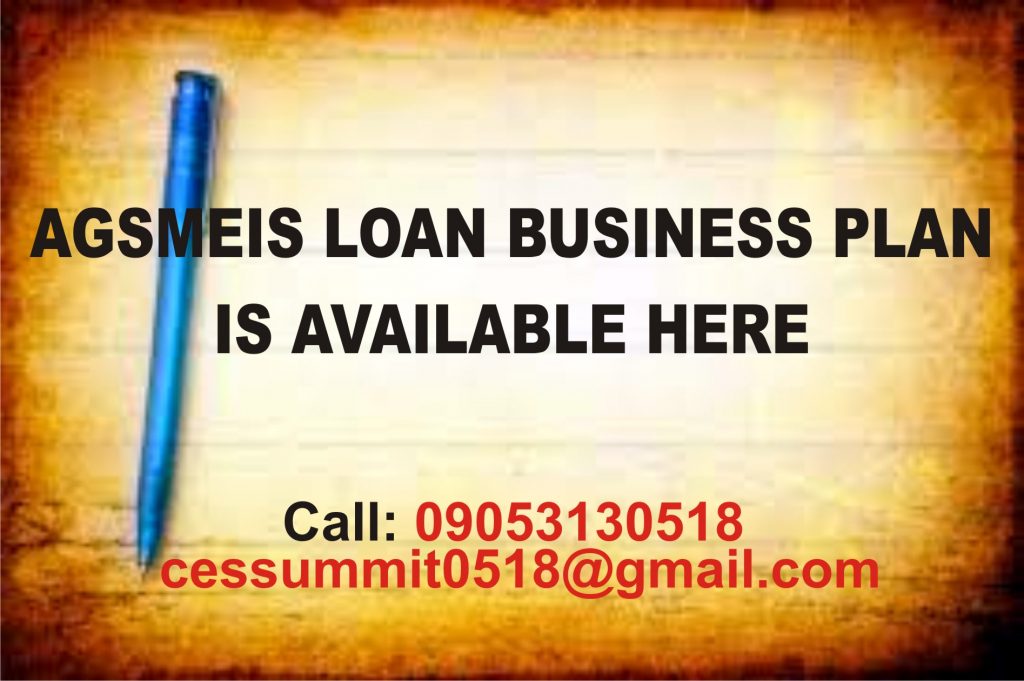 Our Contact: Register for AGSMEIS loan online training
You can send mail through cessummit0518@gmail.com. Or call 09053130518.
Other Business Development Services:
Cessummit will ensure you are profiled for the loan interview faster. We will also prepare a suitable business plan for you for this particular scheme. Our auto-generated business plan is an all-purpose business plan platform. Therefore, no matter the scope of your business activity, there is a template for it.
If you desire to apply with a business name or company, we can register one at C.A.C for you faster. Just give us a call.
If you liked this post bookmark, share and follow us on any of our social media platforms.