Office Support Service Business: How to start Office Support Service Business in Nigeria? Your question could be, how do I start my own office support business. As a matter of fact, this is an example of business support services for businesses. Therefore, on this office service business segment, you can establish services offerings on Information Technology. Professional Services, Transportation, Medicine and Wellness, Convenience Services, Financial Services and more.
Furthermore, Office Support Service Business in Nigeria are support services in entrepreneurship. They are services provided in a nurturing environment for small businesses through the provision of a wide range of business support services. These include entrepreneurship strategic training, marketing assistance, networking, auditing and tax management, Others are the preparing for other regulatory compliance certificates.
How to start Office Support Service Business in Nigeria
Entrepreneurs need those services listed in the last paragraph. We will discuss them latter. But for now, lets discuss how you may start your own business support service office in Nigeria. Cessummit Business Support Programs & Services aim at Empowering Entrepreneurs with Modern Entrepreneurship Empowerment Strategies. And this is one of the processes – business information at your fingertips.
Office Support Service Business: How to start Office Support Service Business in Nigeria
Step 1. Incorporate Your Business:
At the outset, you need to register your business as per the requirements of Nigeria. In Nigeria it's legally binding on you to register your business if you must conduct business with government or other incorporated bodies. So, many do not know that there are various legal & tax benefits in incorporating a business. In fact, one of the legal benefits is that of business separate entity, especially for a limited liability company.
In the next paragraph, we shall be looing into the various forms of business incorporation in Nigeria. So, keep reading.
Forms of business incorporation in Nigeria:
As a matter of fact, you can register a business in Nigeria at C.A.C. in various ways like:
Limited liability company – there are types under this like private or public limited liability company
Business name Registration
Incorporated Trustees – NGOs like church, club etc.
Corporative Society – this can be registered at C.A.C. or at your state level.
However, another means of retaining a business name is to trademark it.
Furthermore, incorporating a business requires a professional help & assistance. I prefer & recommend that our readers will call us to do this for them. This is part of the business development services we offer. In fact, in our several years of industry experience, we have helped many businesses to start up in a legal & hassle-free way. Our contact.
Step 2 – Get Business Bank Account:
Once you have legally formalized your business as indicated above, you can now proceed to apply for a business bank account. And this will require you to submit the following to the bank;
Business registration document,
Your or directors' BVN
Filling of essential bank forms for necessary information like type of account and mandate for the operation
TIN print out on the business name
SCUML certificate
Remember that a business bank account is preferred over a personal bank account. In fact, the separate entity clause on the registration of your business makes it illegal for you to use personal account to run business account. And, let me remind you again that it's not also good to use company bank account to run your personal or family activities. If you do this, you will have a lot of explanations to give to the taxman.
I do not need to remind you that running your business separate from yourself gives you Legal ability to draw credit as and when required. Note also that it gives your business a good Professional outlook.
Bank selections:
Even though I know that all banks in Nigeria are good. The microfinance banks inclusive. Yet, based on your need you have to select the best bank based on factors like:
Customer-friendly features
Interest rates for credits and overdrafts
Transaction fees/commissions
Minimum balance requirements
Technology support services – internet banking etc.
Step 3: Get Your Website Running:
As matter of fact, the days of cold calling is over. Now, you can get clients simply by having a web presence. And as you can see, this is my business website. You can equally get yours.
Furthermore, to get a website make sure you have made the following ready;
Domain name (lie cessummit.com). Preferably your business name should be your domain name.
Logo
Tagline
Hosting plan
Furthermore, we will discuss how to use your website to generate client leads later on this page. But for now, lets see what people in Nigeria ask about business support services.
What people ask in Nigeria about business support service:
Again, before we finish discussions on the steps for establishing your own business support services in Nigeria, can you ponder and look at these things that people ask about in Nigeria. As a matter of fact, people want to know about;
what support services are in business
how business support services company profile looks like
example of business support services especially for small businesses
They also want to know about;
the functions of support services in business planning.
And, more importantly, business support services for start up business.
importance of business support services
business services providers
Are you also asking such questions by now? Then visit this
Step 4. Get your office ready:
This will make you rent an office space and buy the essential Office Equipment. Many people think that one can start from his home. I did it. Many have also done it. But the Nigerian factor/thinking is if you are not in an office your are fraudulent. So, if your budget can accommodate office rent, please, do. And what about getting a co-working space with some one existing already. I did that too.
Now, the next thing is to get the essential office equipment. This is because business support services require a minimum of a few office devices like:
Computer
Printer & photocopy machine
Router
Phone
Spiral binding machine
Then, get your pioneer staff to start with. You can scale up later. See, that bellow.
Step 5. Get Your First Client by Marketing Your Services:

This is of utmost importance. Nothing seems working until you have your first client. So, you must work towards getting your first client. This is because getting your first paying client will boost your confidence and open a door of opportunity for your new business.
So, how do you go about it. Then do this; set aside all the big goals you may have and for now focus on only one achievable target: Your First Client. Once this is done everything else will find its place on its own. Then you can achieved clientele base through the following;
Referrals – You may use a simple Google form to ask for referrals from your contacts. These may be friends or relatives. So, send mass email to them with the form attached to it. And if need be, personally follow up with each one of them. In fact, in the email body, write about your business support services and your authority. And, don't forget to offer a referral incentive to the referrer indicated in your mail.
Get Forums ( e.g. QUORA) – In fact, this is one of my favorite modes to generate leads. As a matter of fact, online forums Quora can help you generate a ton of quality leads. This is simple. Just answer questions related to business support services and link your website in the answers. Simple.
Listing – Go through the yellow page listings and cold call some of them. You can not tell; there could be a few of those local businesses looking for business support services.
On the other hand, you may try to find a few local businesses contact them using Google search
4. Business Network your business – This you must do by reaching out to prospective clients. So ensure you;
Hand over your business card
Talk confidently like a subject expert
Showcase your experience
Ask for the prospect's business card
Again, it's important you stay in touch with the prospects you met during the events.
Online Ads – These could be via Facebook, WhatsApp, Telegram etc.
Step 6. Get More Clients, Breakeven and Turn Profitable:
Furthermore, as you serve the first client, it's time to start looking for more customers by using the marketing mediums narrated above. At the same time, you have to focus on making your service business breakeven and then become profitable. As you know, this is the ultimate aim of any for-profit business.
Can you check on these business appraisal formula:
Turnover – cost of sales/cost of production/variable costs = gross margin
Gross margin – other relevant cost = Net margin
These 2 equations may look good and positive but may not be able to cover your relative fixed costs. But the fact that you cover all your variable cost means you are breaking even. That is how economics looks at it, especially in the short-run. However, in most cases breakeven point is where total cost and total revenue are equal, So, a profitability level measure for a business on monthly basis will be;
Sales per month – (Fixed +Variable expenses per month) > 0 = Profitable
Sales per month – (Fixed + Variable expenses per month) < 0 = Not profitable
Fixed expenses are expenses that are fixed irrespective of the level of operation. Example: Office rent. While variable expenses are the expenses that fluctuate based on the sales or operation activities.
Step 7: Hire Employees & Scale Up
If you have turned profitable, it's time to scale up. The few staff or even you on alone office may not be ale to serve an increasing number of clients. Therefore, at this point, you may wish to hire more employees.
Scaling up now may be in a variety of ways like;
Increasing your service offerings
Setting up a new branch or location
Increase in the quality of clients etc.
As a matter of fact, scaling up is a tricky part of a business. This is because it's a two-edged thing. This is because if you try to scale up too fast, you may risk losing money. Whereas, scaling up slowly, may pose risk of losing a few business opportunities. We have recommended topics that can explain other aspects of this concept. So, try to visit them.
Recommended topics Office Support Service Business:
What cssummit.com offers:
Cessummit.com is a business support service provider company. It provides internal control business support services to entrepreneurs & busy professionals to enable them save cost, beat deadlines & grow faster. As a matter of fact, we offer accounting and administrative support, business writing/documentation services, content management etc.
In fact as a business hub, we provide business support services for the Nigerian small and medium enterprises, companies etc. in order to have more edge in the competitive market. Now check out our list of services bellow.
Office Support Service Business: How to start Office Support Service Business in Nigeria
Read Also for Office Support Service Business: How to start Office Support Service Business in Nigeria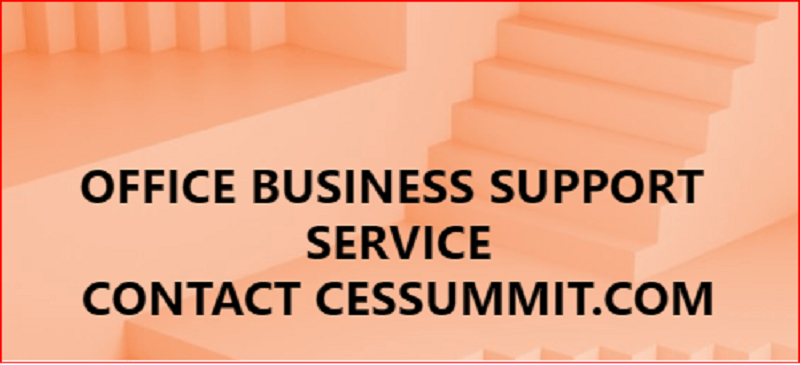 Was this article helpful?
Highlighted in this content are how to start Office Support Service Business in Nigeria. They form part of our organized business development and support Information at your Fingertips. In fact, these Cesummit.com business support services are Modern Entrepreneurship Empowerment strategies. They are for Empowering Entrepreneurs for Economic Growth and Development in Nigeria.
How to Contact and follow us:
Finally, do you desire our services? Then, please contact us on +234 9053130518/08034347851 or emailing via cessummit0518@gmail.com. And to get more information on this website, use our search button on this page. Follow us by using our social media buttons on this page too. Thank you.