How Neglecting Regulations & Compliances Hinder Growth for Business Start-ups – Pure company growth strategy for fast growing small business plan are all inclusive of cessummit.com business growth strategies. This is one of our objectives in helping businesses grow.
Regulations & Compliances Certificates for Business Start-up Growth:
The non compliance or incompliance with regulations may be very costly for organizations. In cessummit.com we see startup business development strategy as a survival and growth strategy for small and scale-up businesses. By this we have helped build up so many top product led growth companies. Now, the questions are;
How do you maintain regulatory compliance?
What are the key regulatory requirements?
How do you monitor compliance with your business policies and procedures?
These questions will be answered as you go on reading, while we raise other challenging issues. Furthermore, in this series on start-up strategic growth and development, the following are the related topics. Click to read.
When Technology & Innovations Harm Business Start-ups
See How Narrow Client Base Restricts business Growth
Leadership Challenges Restrict Business Start-up Growth: See how
The most common Regulatory or Compliance mistakes made by startups are:
Cessummit.com care for your business growth and development. That is one of our core objectives and why we are in existence. In fact, by our well structured business planning and compliance certificates we render business growth service to many businesses and organizations. And, I tell you, we are doing well.
We promised you solutions to some questions raised in the last paragraph. Now, lets look are these business regulatory and compliance mistakes and take them up one after the other.
Choosing the business entity.
Lack of licenses and permits.
Not taking tax issues under consideration.
Founders' agreement.
Not hiring a professional legal counsel.
Protection of intellectual property or business secretes.
Non-compliance with security laws.
Choosing the business entity:
On this subject matter, we wish to state that certain businesses require a particular form of business. So, its good that before you start the process of registering your business with C..A. C ( Corporate Affairs Commission) consider the legal form of the business structure that will be good for the business you want to float.
In Nigeria, existing legal form of business structure are sole proprietorship ( business name) which can also be enlarged in partnership form. You can also have a limited liability company. Businesses face challenges here. Actually, the minimum share capital is 1m shares but there are some businesses that statutorily or by industry policy require more than 1m shares. You can contact us for free consulting services in this regard. Then limited liability status has some other varieties, like public limited liability companies (PLC).
Then are the NGOs. Non-governmental organizations also called nonprofit making organization but statutorily called Incorporation of Trustees (IT) by C.A.C. This is for clubs, churches, mosques, town meetings, voluntary and humanitarian organizations etc.
Cessummit.com will ensure your business or organization is adequately and sufficiently registered in few days. We take proactive actions against mistakes that could hinder your organizational growth or incurring addition costs after registration. We expect your call for your business incorporations after reading through.
How Neglecting Regulations & Compliances Hinder Growth for Business Start-ups
Lack of licenses and permits.
Did you find out what licenses or permits that your business require to function well? That is to say, are you involved in drug or food processing, distribution? Then you require NAFDAC permits or licenses. Again, are to be involved in export or import businesses. Then, you require import and export licenses from Nigerian Export Promotion Council. Remember too that all your investment enquiries and permits go through Nigerian Investment Promotion Commission (NIPC).
Cesummit Business Support Services are start-up and existing business support services for both small, medium and large business. Contact us on +234 8034347851 or +234 905 313 0518 today for Cessummit Business Support Programs & Services. Do this now.
Not taking tax issues under consideration:
Tax issues are compliance and regulatory issues. To comply with business operations in Nigeria, you must have your tax clearance certificates. The tax compliance issues extends to state government. And, then government departmental and agencies both for states and Federal government. Then are the local government levies, permits etc.
The point we are making is neglecting these regulations & compliances corticates and permits will certainly impact on your business operations. And, that means hindering your business start up growth and development.
How Regulations & Compliances Promote Growth for Business Start-ups
No Founders' agreement:
This agreement is somehow tactically handled while doing your incorporations. The share allocation may take care of this. While doing this, remember that control starts from 52% of stake-holding. A client called few days ago to ask for an adjustment in their incorporation documents. In fact, they had inadvertently allotted the 100% shares to a single director. Is this a small mistake? Thank God, they discovered immediately.
However, there are other agreements that must be reached. Especially as you compose the management team. Please, ensure you take care of these fundamental challenges while incorporating the business. It's not funny that after incorporation you now remember that your partner is not trust worthy and would want to remove him/her. You are looking for trouble.
In any case, now you can make use of the 2020 CAMA adjustments that make provision for sole directorship. This solves lot the problems hinted above. Now, get this – whether you're a small business owner or entrepreneur, Cessummit has business information to help you take your next step. It's a comprehensive one-stop shop for all you need to kick-start your business. Use this opportunity provided here to make your business work. Call +234 8034347851 or +234 905 313 0518
Not hiring a professional Consultants like Cessummit:
Neglecting Regulations & Compliances Hinder Growth for Business Start-ups. The source of this negligence is in not hiring professional Consultants like Cessummit. But, I tell you, Cesummit is poised to empowering entrepreneurs in Nigeria with modern entrepreneurship empowerment strategies that helps in economic growth and development. Visit our website cessummit.com for more information or get in touch for a free consultation.
How Neglecting Regulations & Compliances Hinder Growth for Business Start-ups
Protection of intellectual property or business secretes:
In an era of copy copy, one need to be careful with his business secretes. So, Protecting your intellectual property or business secretes is very essential for your business growth and development. One of the ways to project your business is to register your brand names. Trading marking your goods and services will go a long way in giving you this protection.
As a matter of fact, we are talking about Patents, trademarks, copyrights, and trade secrets here. They are valuable assets of your business. So, understanding how they work and how they re created is essential to knowing how to protect them.
Generally, trade secrets are a type of intellectual property. They include formulas, practices, processes, designs, instruments, patterns, or compilations of information that have inherent economic value to the owner. Therefore, neglecting such regulations, compliances, policies and procedures can hinder business start up growth and development.
Non-compliance with security laws:
Security laws compliance involves monitoring and assessing systems, devices, and networks. This is to ensure that they comply with regulatory requirements and standards. Here the compliance may be very broad as it may be industrywide.
The fact is, failing to comply with security regulations usually means that you have to pay fines. It my also involve compelling you to update your standards. You or your business can also be sued or prosecuted. In fact, it may also mean closing or proscribing your company. Which one do you like/
Relevant Questions and Answers:
For you to enjoy our strategy planning for business development and scale up companies, try your best to answer these questions. Understanding them and giving correct solutions are ways of growing a business. Do you need Consultation for your business planning? At cessummit.com our consultancy services cover your business challenges in developing business ideas and planning, business incorporation and other start-up issues. Unlock and leverage the untapped potential of your business contact +234 8034347851 or +234 905 313 0518 today!
Do you know how to maintain compliance with regulatory requirements?
Can you assess the impact of regulations neglects on your business?
Do you understand how regulations affect small businesses?
Can you contact us on regulatory and other compliance issues in your business planning?
Do you know why laws are needed for business?
Does this post help you understand the problems and solutions of small and medium enterprises in Nigeria?
Is it true that these facts are legal aspects of entrepreneurship?
How many of these questions did you answer correctly? Can you contact cessummit.com for the correct solutions to yur business today?
Related topics to Read:
How Start-ups can Overcome scaling-up Challenges
How Time Management becomes a big challenge to business start-ups
How finding right skills & Behaviors is a business start-up challenge
Three Examples of costly compliance mistakes:
My dear, after reading this part, just see how to give us feed back through our comment or email box below. Just to confirm to us if these are costly compliance mistakes or not.
1. Inadequate amount of shares – A company went to bid for a big contract with the Federal government. With every success opportunity as the uncle was on the board considering who wins the contract or not. But them, he was told that his company was a small one for the contract. Yes! Why? His share capital was only 1m instead of say 2m and above. He lost the opportunity. Did you enjoy the story.
I have another story. This time an air travel agent applied for relationship with four airlines in Nigeria. Only one responded positively. The rest told him to go and upgrade his share capital to at least 2m shares. Is this another good business story?
How Regulations & Compliances Promotes Growth for Business Start-ups
2. Non-inclusive business objects in incorporation Memo and article of association – And suddenly you are to tender for a job. Then, you discover or the contractee discovers that the job you want to go for is not covered in your incorporation objects. This means you have to work on your incorporation object clauses while registering the business. Cessummit knows how to take care of these things while incorporating your business with C.A.C.
3. Another one; Non-Contract bidding compliance certificates – a client called yester for us to assist process her business compliance certificates to enable here tender for a contract. And, lo and behold, the business was registered in 2013. The end of the story is that she could not go forward in tendering for that contract because she could not get these certificates just suddenly like that due to the amount of money involved. Many of you are like her. You are waiting for the day your uncle will tell you to bring your papers for a contract before you start processing them.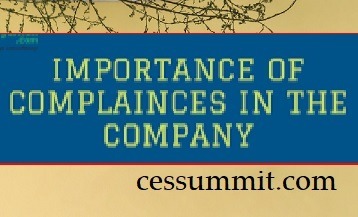 Regulatory and Compliance Certificates:
Here we have them listed out for you. In fact, you can click on any one to read in details. We found out as we had hinted above that neglecting these have cost businesses a lot of fortunes. Don't be the next. Read through and contact us immediately.
Summing up:
Finally, we did this research for your business growth and development, especially for start-ups. Understanding How Neglecting Regulations & Compliances Hinder Growth for Business Start-ups will go a long way setting up your business for high scale up. Ok! Now cessummit.com would want you to do something for it. That is to follow us on our face-book page, twitter handle, Instagram, LinkedIn and others. Again, it would like you to help share this to reach your friends. Sharing is made simple here by clicking on any of the social media buttons on this page. Then, contact us on +234 9053130518/08034347851 or emailing via cessummit0518@gmail.com. Get inspired here And, to get more information on this website, use our search button on this page. Just type in whatever you want, and this site will give you that. Get professional tips here and If you want to be come a professional, click here