Biz Start-up

SCUML Certificate Registration: This is how to get registered
SCUML Certificate Registration: This is how to get registered. Have you registered for SCUML before? Have you seen the SCUML certificate before this time? This post gives you the opportunity of getting at these two things. Cessummit.com has a corporate social responsibility to help young entrepreneurs start and grow their businesses. We do this by disseminating entrepreneurship information for all.
Therefore, this is why we re always interested in up-coming or on-going entrepreneurs' business interests. Our special interest here therefore is how you may obtain your SCUML to run your business financially.
The Application Process:
The process for obtaining a SCUML certificate is easy. You have to simply log into SCUML websitewww.scuml.org. And, then click on the tab "Register Online". Then fill the registration form and attach the required documents. The next paragraph gives the highlight of the application form.
The Application Form:
For the registration to succeed, application form must be filled online. Here displayed is the application form for you to study. That is how to get ready all the required documents before filling the form online.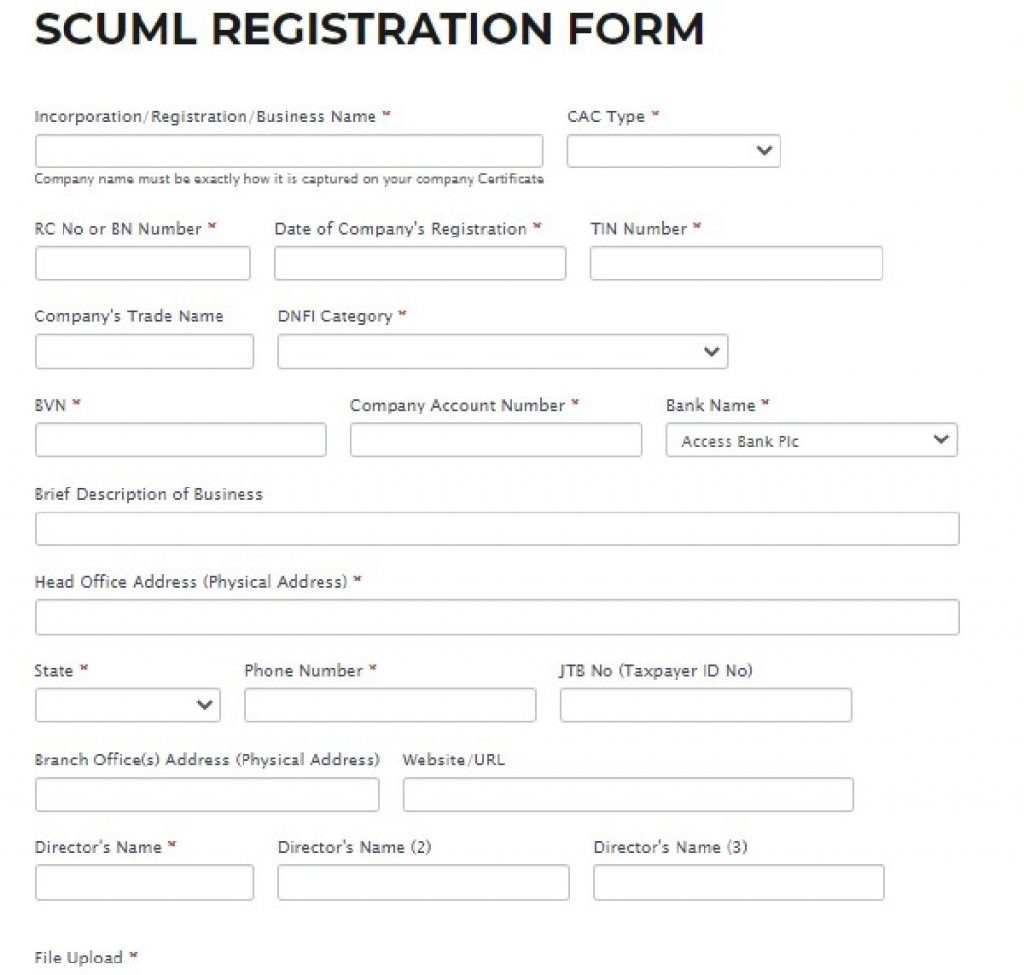 Required Information:
If you watched properly, the under'-listed documents are in the form above. Therefore, you re required to make ready the following documents.
Incorporation/Registration/Business Name. You've to ensure that company name must be exactly how it is captured on your company Certificate. No alteration is allowed.
RC No or BN Number – whichever is applicable. RC is for Limited liability companies while BN is for business name.
Date of Company's Registration – This is also on the incorporation certificate
TIN Number – This must be from FIRS, especially for VAT registration
Company's Trade Name – in case this is different from what is on the incorporation certificate.
BVN – Your bank verification number must be attached. It may require that all the directors submit this where applicable.
Company Account Number – where this is available for existing organization. But new incorporation will not have bank account until SCUML is issued.
Brief Description of Business – your business brief history or profile.
SCUML Registration Offices:
The collection of the certificate must be from any of the following offices. That is why you must note their respective email address.
Abuja office: helpdesk@scuml.org
Lagos Zonal Office: lagos@scuml.org
Enugu Zonal Office: enugu@scuml.org
Kano Zonal Office: kano@scuml.org
Port-Harcourt Office: ph@scuml.org
Gombe Zonal Office: gombe@scuml.org
Ibadan Zonal Office: Ibadan@scuml.org
Kaduna Zonal Office: kaduna@scuml.org
Maiduguri Zn Off: maiduguri@scuml.org
Benin Zonal Office: benin@scuml.org
Uyo Zonal Office: uyo@scuml.org
Sokoto Zonal Office: sokoto@scuml.org
TO SUPPORT AND GROW YOUR BUSINESS READ ALSO:
You may need help:
Things like this are very technical for some laymen or for others who don't have time to go about this type of duties. In that case you need help. So, do you need help:
For your business incorporation documents?
Or, in obtaining your Tax documents?
And, finally, getting ready your personal documents?
As a matter of fact, we can help you fix any of them in the most legal process without any form of short cut. This is because as professional accountants and tax experts, we know what to do. And, in fact, if you get us involved, you'll be happy you did.
CALL US FOR YOUR BUSINESS INCORPORATION
Our Contact:
Easily contact us on 09053130518 or cessummit0518@gmail.com.
Finally, I know that this post is good for you to bookmark. You can equally share it to reach others. Try to follow us on our social media platforms. Thank you.
SCUML Certificate Registration: This is how to get registered
Emerging challenges for Money Laundry Control:
From our researches, here are some of the challenges for every one to watch out for. This article iscurled from https://www.journaldunet.com/economie/finance
Risks and warning signs
New typologies and forms of crime are constantly emerging. Regulators and organizations are issuing new red flags that require special attention. Meanwhile, anomaly detection and analysis finds new trends. Some of these new typologies re variations of existing typologies and canbe detected by adjusting the thresholds. Or by refining the detection logic already in place. Other typologies require the creation of specific detection logic to identify all of these scenarios.

SCUML Certificate Registration: This is how to get registered
Inconsistent "normal" profiles
In a customer relationship, the definition of so-called "normal" behavior can change. For example, in consumer banking services, the customer relationship may begin with a young adult, and as they grow older, their income and purchasing power increase, their profile changes. Ditto for businesses: the way money circulates, payment methods … everything is changing and this has a double impact on the fight against money laundering. What should be the subject of a red flag changes as customer behavior changes.
Increase customer volumes
Over time, the company grows: it has more customers who generate even more activities. This translates to more activity and therefore more data to track. If we do not continue to raise our standards and reduce the risk for some clients, we may see the number of high risk clients increase. If we keep the same false positive rate for our transaction tracking, we can expect the number of alerts to increase over time. In either case, the anti-money laundering team may need to constantly expand to keep pace with the evolution of the business.The approach taken to solving problems by recruiting staff is far from ideal and the only way to avoid this cycle is to constantly improve the process used to approach the fight against money laundering. This therefore requires developing your technological power to adapt to these increases. The solution does not lie only in recruiting staff.
New products and new regions: SCUML Certificate Registration
All of the above scenarios constitute a "routine" for the AML team. But what happens when the company launches a new financial product? Or when the company has decided to conquer a new geographic region? In most cases, this presents a huge challenge, as it involves starting from scratch, learning the new area, and estimating its good coverage. Errors in these estimates result in flooding anti-money laundering analysts with false positives, or missing actual suspicious activity. It is certainly not desirable to achieve these results.
SCUML Certificate Registration: This is how to get registered