SCUML Application Form: This is how to fill it.
SCUML Application Form: This is how to fill it. Have you seen this form before? Yes or No, we will give you the breakdown and specimen of the form in this post. Cessummit.com is an entrepreneurial empowerment strategic organization, with the single aim of helping young entrepreneurs stand on their business.
Therefore, whether you are an up-coming or on-going entrepreneur this post is for you. Especially important for you here is how you may obtain your SCUML as to be able to carry out your business seamlessly.
The Application Form:
Here is the application form. You are free to note all that is required in it. Then, prepare to get the requirements ready before applying.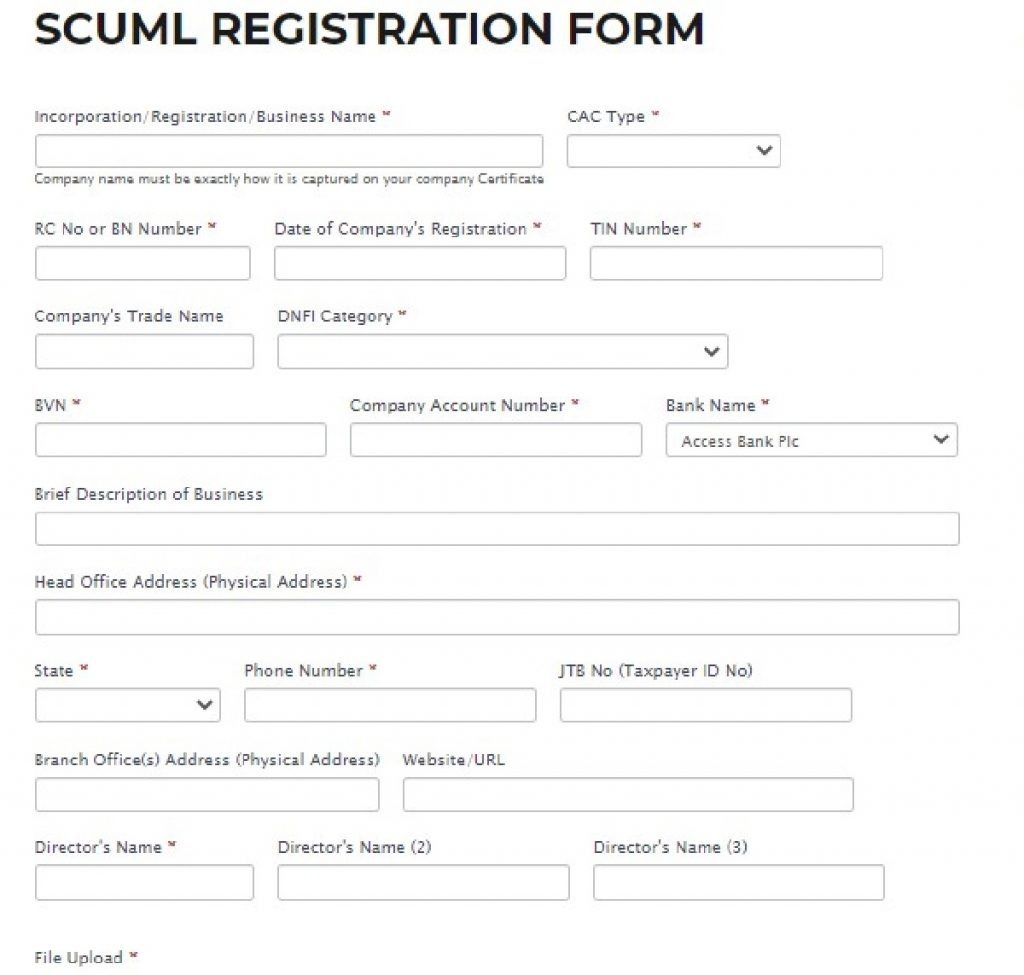 Required Information: SCUML Application Form: This is how to fill it.
As a matter of fact, you have to make the following
Incorporation/Registration/Business Name * Company name must be exactly how it is captured on your company Certificate.
RC No or BN Number *
Date of Company's Registration *
TIN Number *
Company's Trade Name.
BVN *
Company Account Number *
Brief Description of Business.
The process for obtaining a SCUML certificate is easy, simply log into SCUML websitewww.scuml.org, click on the tab "Register Online" and fill the registration form and attach the required documents. The documents to be attached for business name include; Certificate of incorporation.
SCUML Application Form: This is how to fill it.
SCUML Registration Offices:
THE FOLLOWING e-mail: address
Abuja office: helpdesk@scuml.org
Lagos Zonal Office: lagos@scuml.org
Enugu Zonal Office: enugu@scuml.org
Kano Zonal Office: kano@scuml.org
Port-Harcourt Office: ph@scuml.org
Gombe Zonal Office: gombe@scuml.org
Ibadan Zonal Office: Ibadan@scuml.org
Kaduna Zonal Office: kaduna@scuml.org
Maiduguri Zn Off: maiduguri@scuml.org
Benin Zonal Office: benin@scuml.org
Uyo Zonal Office: uyo@scuml.org
Sokoto Zonal Office: sokoto@scuml.org
To Support Your Business, the following related topics are important for you.
READ ALSO: TO SUPPORT YOUR BUSINESS:
Where do you Need Help?
Do you need help in your business incorporation documents?
Or, do you need help in obtaining your Tax documents?
And, finally, is the problem your personal documents?
As a matter of fact, we can help you fix them in the most legal process without short cut. This is because we are professional accountants and tax experts. If you get us involved in this process you will be happy you did.
Our Contact:
It is easy to contact us on 09053130518 or cessummit0518@gmail.com.
I know that this post is good for you to bookmark. You can equally share to reach others. Try to follow us on our social media platforms.