Biz Start-up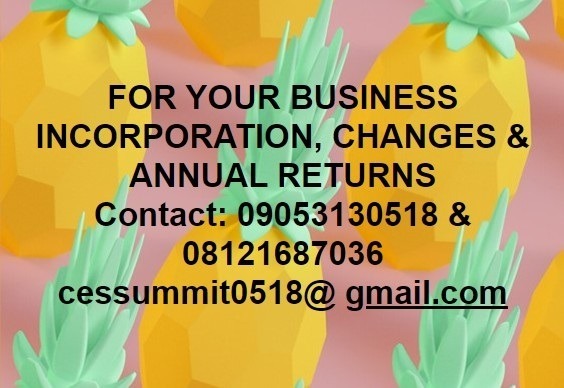 The 6 FGN Contract Bidding Compliance Certificate You Need
These are NSITF, ITF, PENCOM, BPP IRR, TCC and C.A.C incorporation certificates. There are the initial certificates and the annual renewals. Every federal contractor must register to obtain any of these certificates. The 6 FGN Contract Bidding Compliance Certificates you need go together to win you that contract.
As a matter of fact, here are the details of them and the procedures to obtaining them. The processes for the first issues are always challenging. This is so because a lot of entities start or register or this very late. Some of them take as many as 10 years to register. So, when they start, the initial amounts involved become very huge. But we encourage you to start from somewhere immediately.
The renewals are not as costly as I have narrated above. Since it's now an annual updates, the payments are not so huge again.
The Compliance Certificates:
Business incorporation is the starting point. So, you have to decide the type of business to incorporate. Get the details of required information and process in this highlighted link.Contract Compliance Certificate: C.A.C. Incorporation Certificate
Tax matters start immediately after incorporation. Get your TIN and start arranging your transactions and keeping adequate records. Click here to get our procedures – Compliance Certificate: Tax Clearance
Your NSITF compliance certificates is essential too. We can get it for you in a week's time. Click here to get more details on procedures – Compliance Certificate: NSITF Certificate
ITF certificate is another compliance certificate. This link will give you details on how to go about it – ITF Certificate as Compliance Certificate
Furthermore On The 6 FGN Contract Bidding Compliance Certificate You Need
PENCOM certificate is very very important and the processes are like three times the others. Click here to find out. – Contract Compliance Certificate: PENCOM Certificate
The BPP data base IRR is the last certificate to be gotten always. This is because all the other 5 certificates are to be recorded here. Find out how here; Bidding for FGN Contract: BPP Data Base Certificate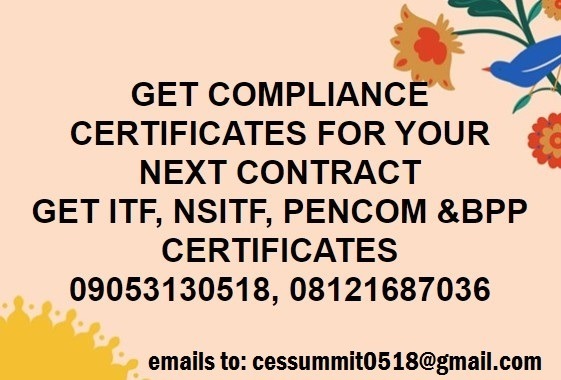 How may we help you?
As a matter of fact, for whichever one you need, we start by you making available to us all the required information. That's all we need from you.
Our Procedure:
Our procedure is to generate all the forms required. Your responsibility is to furnish us with the relevant information. We generate all the payment schedules with which you can make the payments by yourself. The statutory fees must all be paid and some extra to cover our logistics/professional fees.
Our Services:
At this juncture, we wish to use this opportunity to announce to you that we have the capacity to help you get your FGN contract bidding compliance certificates.
In fact, we have an enlarged capacity to carry out for you other business start-up and development services processes. Contact us immediately. In fact, our business support services include processing statutory business annual returns for clients. These annual returns include those for tax clearance certificate, CAC annual returns, PENCOM, ITF and NSITF compliance certificates annual returns. We develop winning business plans for clients too. Contact us today.
Our Contacts:
From anywhere in the world, you can contact us through +234 9053130518 (office time), or 08121687036 or email cessummit0518@gmail.com.
If you enjoyed this post, kindly help us share to reach others who need it.
Summary Of The 6 FGN Contract Bidding Compliance Certificate You Need:
Finally, BPP IRR and other Compliance Certificates are essential certificates for FGN contractors. These 6 certificates are mandatory. In fact, you have to start from incorporating your business with CAC. After that, get your company TIN and start your tax management procedures. NSITF, ITF & PENCOM Compliance certificates will come latter. At any time when you need any, just get at us.