Bidding for FGN Contract: BPP Data base Certificate
Bidding for FGN Contract: BPP Data base Certificate requires BPP contractor login details. So, if you are a federal government contractor, you need this certificate. And, if you are an intending federal government contractor, this certificate is very necessary for you to have. Here is how to go about obtaining business break through Bidding for FGN Contract with BPP Data base Certificate.
The way it works:
This is the last of the 6 certificates to process. This is because at the BPP platform is where you will upload your C.A.C, ITF, NSITF, TCC and PENCOM compliance certificates. Once your BPP registration is through, then you are ready for the year's business. So, follow me in this article to grab what you should do and how to do them. Remember, we are standby to help out where you have difficulties.
Why should I register with BPP Data base of Contractors, Consultants and Service Providers?
You have to register here because it's a statutory matter. In fact, the BPP database is a creation borne out of the provisions of Section 5(h) of the public procurement Act.(PPA 2007). This Act. makes it mandatory for the Bureau to maintain a database of the particulars of all Federal Contractors and Service providers. Therefore, if you must belong, you must register in this data base. Now, the next question.
Who should register?
If you belong or intend belonging to the group of Federal Contractors and Service providers, you should register. In fact, all Contractors, Consultants and Service Providers (CCSPs) already doing or intending to do business with the Federal Government of Nigeria(FGN) should register and update annually.
Get to Bureau's website, www.bpp.gov.ng and click on an icon labelled "Contractor Registration" to register your firm.
Bidding for FGN Contract: BPP Data base Certificate – The Objective:
This data base is a data management system of all Federal Government CCSPs. Therefore, it's used as a definitive source of information about CCSPs doing or intending to do business with the FGN. In actual fact, this data base is for Contractors, Consultants and all Service providers. So, be it suppliers of goods, services and manufactured items. However, it does not cover manufacturers who are not into direct supplies of their manufactured products to FGN.
What then is BPP?
BPP stands for Bureau of Public Procurement. It's is the regulatory body that is responsible for monitoring and providing oversight for public procurement of goods, services or constructions in Nigeria.
The Certificate:
Furthermore, in this regard, the certificate certifies that you are a federal government contractor. You are free to print evidence of registration, Interim Registration Report (IRR), after Successful Completion of your registration.
Bidding for FGN Contract: BPP Data base Certificate – How do you renew registration?
Yes, you renew your registration yearly, if you so desire. In fact, registered companies on the database seeking renewal are required to renew their registration starting from the first month of the new year. This is done by submitting updated information on company performance in the preceding year. This means, all the 5 relevant documents will be updated.
The Need for It:
We have explained the need for it in the above paragraphs. In fact, this IRR certifies that you are a federal government contractor. And, that you have the capacity to carry out contractual assignments and obligations.
Criteria Requirement:
Furthermore, there are criteria required to register with BPP. Therefore, to be registered in the data base a CCSP must fulfill:
All requirements of a legally registered Corporate Entity,
Meet all his obligations to pay taxes, pensions, ITF and social security contributions,
And, show it has the human, technical and financial capacity to execute contractual obligations with FGN.
Information Requirement:
These include,
Contact Registration Information.
Compliance.
Board of Directors.
Parent Company.
Business Category.
Professional Association.
Manufacturer Representation.
Financial.
Personnel.
Completed Jobs.
Equipment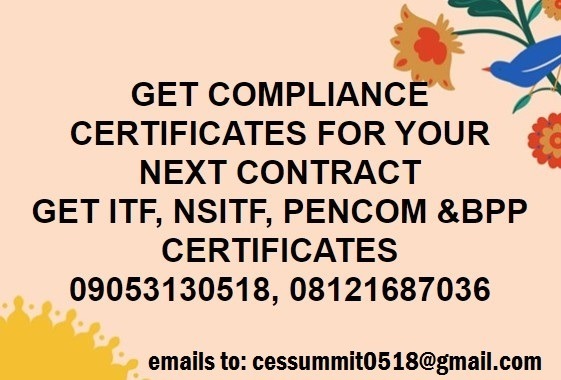 READ ALSO:
How we help you do Bidding for FGN Contract: BPP Data base Certificate
As a matter of fact, we start by you making availability to us all the required information. That's all we need from you. Then our professional fees. At this juncture, we wish to use this opportunity to announce to you that we have the capacity to help you get your BPP IRR. That's the last compliance certificate you need for your business.
In addition, to let you know that we have an enlarged capacity to carry out for you other business start-up and development services processes. Contact us immediately. BPP IRR is one of such. In fact, our business support services include processing statutory business annual returns for clients. These annual returns include those for tax clearance certificate, CAC annual returns, PENCOM, ITF and NSITF compliance certificates. Contact us today.
Our Procedure:
Our procedure is to generate all the forms required. Your responsibility is to furnish us with the relevant information. No short cuts. In addition, the statutory fees must all be paid and some extra to cover our logistics. Payments are made through our company bank account if you so desire or direct to the relevant agency accounts.
Our Contacts:
Yeah! , Now, you can contact us from anywhere in the world on +234 9053130518 (office time), or 08121687036 or email cessummit0518@gmail.com.
Again, assist us. If you enjoyed this post, kindly help us share to reach others who need it.
Summary For Bidding for FGN Contract: BPP Data base Certificate:
BPP IRR and other Compliance Certificates are essential certificates for FG contractors. These 6 certificates are mandatory. In fact, CAC incorporation certificate is just the starting point. Others re Tax clearance Certificate, NSITF, ITF & PENCOM Compliance certificates. If you need any, just get at us today.
BPP IRR is a compliance certificate to bid for the next contract. Together with CAC, TCC, NSITF, ITF & PENCOM, compliance certificates you are sure to win the next contract. Good luck.