Certified true copy of business name documents.
This include Certified true copy of business name certificate of registration. And, Certified true copies of other documents. As a matter of fact, for one reason or the other, you may misplace your business name registration original documents. Therefore, the need for certified true copy of business name documents becomes inevitable.
What is the meaning of a certified true copy (CTC)?
A certified copy is a copy of a primary document that has on it an endorsement that it is a true copy of the primary document. It's often a photocopy of the original copy stamped "true copy". Legally, this does not certify that the primary document is genuine. It only shows that it is a true copy of the primary document.
On the other hand, what's the difference between a true copy and a certified true copy? A certified true copy is a special copy of an original document. It's usually made by a person such as a notary public, lawyer or commissioner. While a true copy is simply a copy made from an original document, without the certification attached to it. But how do you get even this true copy from CAC.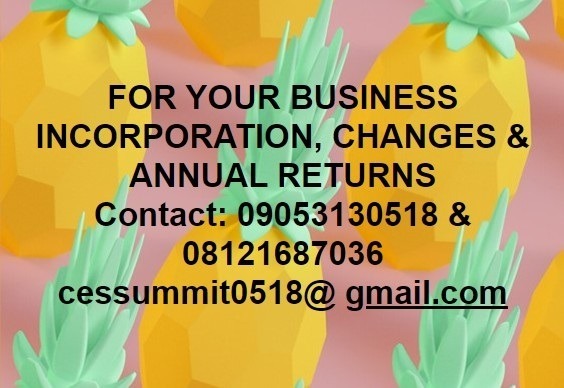 Certified true copy of business name documents – Requirements for Application:
To apply for the certified true copy of your business name documents, you have to bring the following.
An affidavit detailing how you lost the original documents – where applicable
Duly completed application form
Photo copy of your national ID (that is, any nationally accepted ID)
Updated annual returns – where applicable
Evidence of payment of the required fee
READ ALSO:
The Process:
This is a post incorporation exercise. It's what you can do for yourself, if you have the technically and time. Therefore, walk into the commission's office and make these submissions.
On the other hand, contact us to help you do it. Don't look at the extra cost of hiring a professional to do this simple thing. The fact is that it may cost you more, if you don't do this now. In that case, just pick your phone and call +234 9053130518 (office time)/ 08121687036 or email to cessummit0518@gmail.com.
To conclude, Complete Entrepreneurship Summit (CESSUMMIT), the owners of this website, is an entrepreneurship empowerment outfit. In fact, through seminars, workshops, training and mentorship programmes, we empower business entrepreneurs. So, feel free to contact us for your entrepreneurial challenges including obtaining your business incorporation CTCs.
Certified true copy of business name documents
Check us out on this site to find out what we can do for you. We are professional accountants, tax managers and business consultants. Our years of industry experience will help you so much.