Requirements for Filing of notices for changes of Incorporation Documents
Requirements for Filing of notices for changes of incorporation Documents are procedures for change of directors, secretary, shareholding etc. with relevant CAC forms and fees. As a matter of fact, included are CAC form C02 and C07, penalty for late filing of annual return, and CAC login details.
Relevant Questions for your Good-self:
Furthermore, the question is, why do you want to make this change? Should you have avoided this while incorporating the business?
In fact, by experience I know that these changes are avoidable right from the onset. Therefore, we have always advised that you ensure that your incorporation details are those that would not require sudden changes. For instance, consider using your rented apartment as your company registered address or your own property. As a matter of fact, using your property to do this, no matter where the location is, is more permanent in nature than using your rented accommodation which you can vacate at any time.
Furthermore, we advocate that you generate an evergreen memorandum and article of association. One that you do not need to alter from time to time. We specialise in doing this. In fact, we ensure that your incorporation detailed information are those that will carry you on for a long time.
Requirements for Filing of notices for changes of Incorporation Documents – Remedies:
Consequently, remedial actions we can take for you are:
Change or modification of company name
Filing of notice of change of company name
Filing of notice of alteration of memorandum and articles of association
Filing of:
Notice of changes in particulars of directors
Return of allotment and or notice of change in shareholding
Notice of change in registered address
Change of signature
Any other changes or modifications.
In summary, in pursuant to Section 248 CAMA 2004, Form CAC 7 and CAC 7a – Notice of Change in Directors, Or in Name, Residential Address or Postal Address of a Director, ensure that:
Name of company tally with RC No and the company's file and with the certificate of incorporation.
Annual returns are up to date.
Any resolution is on company's letter headed paper with correct registered office address.
Resolutions may be ordinary or special by the Board of Directors,
Every director writes his full names – initial is not allowed.
There are at least two directors.
Lastly, make sure that residential addresses quoted are traceable. That is, shows house number and street clearly stated. Descriptions in villages are acceptable i.e. Njoku's compound Ezinihitte local government area.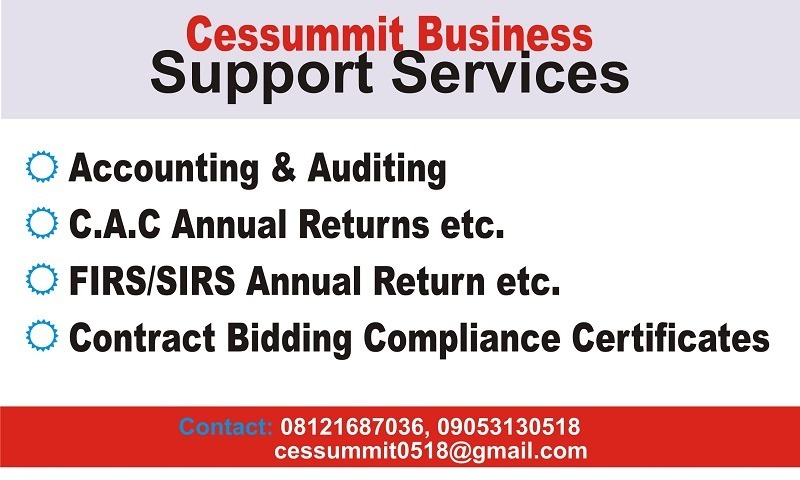 Read Also:
Requirements for Filing of notices for changes of Incorporation Documents. – We are Available:
In fact, if you need Accredited CAC consultants to carry out any of these assignments on your behalf, contact us immediate. We do these at minimal cost. Our professional experiences speak for us. Contact us during work hours on 09053130518 or cessummit0518@gmail.com.
Finally, if you enjoyed this article or you know somebody who needs the information, share with the social media buttons on this page. Indeed, you can also follow us on the social media platforms, if you desire more updates. Also, find out when next CESSUMMIt holds its Complete Entrepreneurship Summit, so that you can attend.