CAC Business Name Registration Is Here
This is an opportunity for you.  C.A.C. Business Name Registration is available here. Therefore, Register Your Business Name Here with the essential requirements. In fact, your C.A.C. Business Name Registration is Here.
The 2 Target Groups:
If you are coming into business as a start-up this article is for you. And, if you have been in business without legalizing your business this article is also for you.
As a matter of fact, this article will help you know what you should be doing to help your business status. You are aware that you can't do any business in Nigeria today with a government organisation if your business is not registered with CAC. This is why we are directing you on how and where to register your business name immediately.
CAC Business Name Registration Is Here – Procedure and Requirement
Furthermore, we explain the procedure and requirement for this. Included also, are the benefits of registering a business name in Nigeria. Here too are the necessary CAC registration forms for business name.
For sole proprietors, partnerships and joint ventures, these are the assignments we will carry out for you.
1. Name Availability and Reservation
every business name is in fact special and specific to ownership. That is why you must ensure that no one else is trading with the name you want to use in business. In fact, similar names are not allowed because of the confusions it could cause on ownership and even on banking transactions. So, generate a unique business name for yourself. On the other hand, if this name is available for you, CAC will reserve the name for you for 60 days. Within this 60 days, you are expected to register the business name otherwise, it becomes available for any other person who wants it. Contact us today to search for a suitable name for you and to reserve it.
CAC Business Name Registration Is Here – 2. Registration of Business Name
The next step to take is registration of the business name. We will help you do this. In fact, if you have the necessary facilities you can also do it yourself. But it's better done professionally. This will involve the presentation of essential documents. In fact, you will present, the proprietors name, partner's names, and means of identifications. Here again, the approval of the business name granted above will be attached. Again, type of business and other relevant business information will be provided.
Your Inquiries @ CAC Business Name Registration Is Here.
Furthermore, if your question is, how do I register my business name? Or, how much will it cost me to register a business name in Nigeria? Part of the answers are given above. However, to be fast on it, contact a CAC accredited consultant today to assist on this subject matter.
We hereby refer you to members of CESSUMMIT. These are accredited consultants for CAC. In fact, they are both Accountants, Layers and ICT gurus who handle CAC matters for CESSUMMIT clients.
CESSUMMIT organises a Complete Entrepreneurship Summit regularly to train, mentor, equip in-coming start-up entrepreneurs. In this seminar everything about business start-up is handled. Intending Exporters are also mentored, such that every legal documents are procured for them at minimal costs.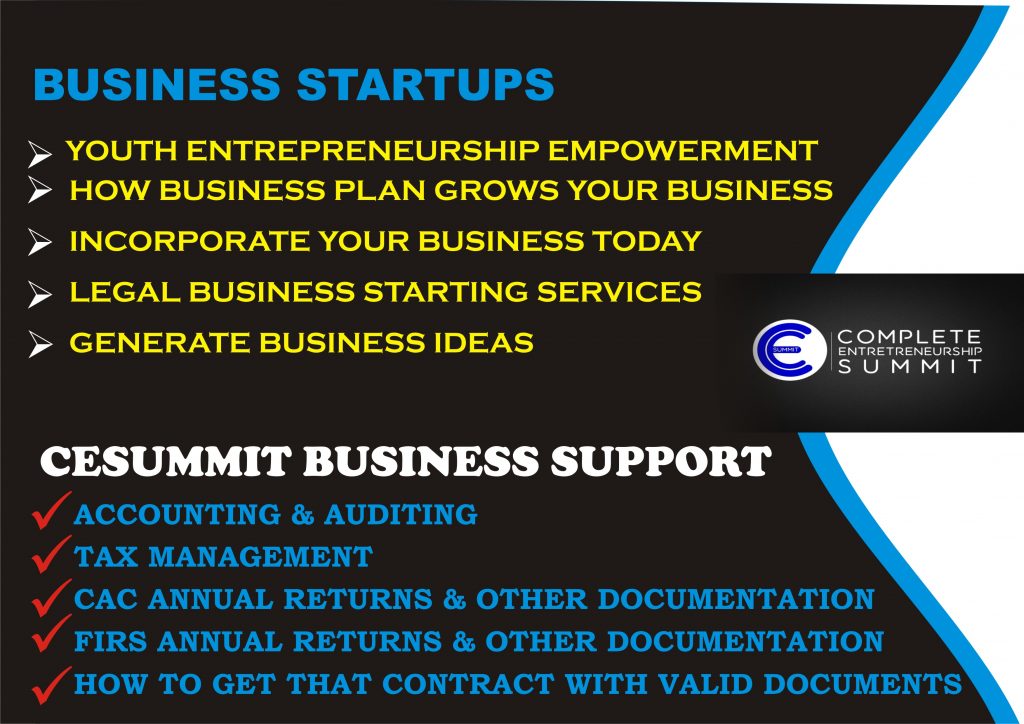 C.A.C. Business Name Registration Is Here
Our Contacts;
Contact us during work hours on 09053130518 or cessummit0518@gmail.com. Other contacts
Finally, you can share this article with your colleagues, friends and well-wishers. Let them know the importance of engaging a professional for their business start-ups. Share with the social media buttons on this page and in deed follow us on the social media platforms, if you desire more updates. Also, find out when next CESSUMMIt holds, so that you can attend.