ITF Certificate A Compliance Certificate
Currently, the demand for this certificate by businesses is high. In fact businesses require this certificate to conform to contract requirements in Federal government offices. Here are the industrial training fund (ITF) guidelines and requirements for compliance certificate.
ITF contributions for employers of labour is mandatory. It's just one per cent (1%) of the employer total emolument for the year. The contribution must be made not later than 1st Day of April of the following year. As at today, Suppliers, Contractors and Consultants bidding or soliciting for government contracts or businesses are obligated to make the ITF 1% total annual payroll contributions.
The objectives of the fund are to promote and encourage the acquisition of skills in industry and commerce. This is with the intention of generating a pool of indigenous trained manpower sufficient to meet the needs of the economy.
The Need for It:
The above narratives explain why the contribution to this fund by employers become compulsory. In fact, the certificate is among the essential documents required in the recent time from FGN contractors to win a contract. The contribution is an annual ritual. In the same vein the Certificate also become an annual thing.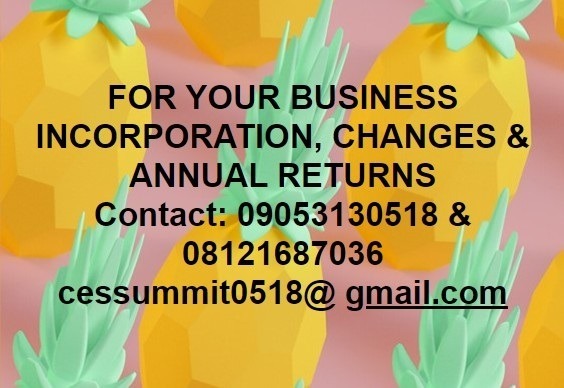 ITF Certificate A Compliance Certificate – Requirements for Issuance:
The following documents are required to process this certificate.
Original copy of CAC certificate for sighting
Current Audited Accounts
Tax Clearance Certificate
Evidence of payment – Minimum Payment of N 150,000
READ ALSO:
How we help you do this:
In conclusion, we wish to announce that we have the capacity to help you get your compliance certificate in a record time.
For your other business start-up processes and business development services, contact us immediately. The ITF compliance certificate is one of such. In fact, our business support services include processing statutory business annual returns for clients. These annual returns include those for tax clearance certificate, CAC annual returns, PENCOM and NSITF compliance certificates.
Our Procedure:
Our procedure is to generate the payment schedules for you. Then, you make the payment by yourself and send us evidence of payment to process your certificates. The only payment you will make to us is our professional fees. This our procedure is educative also for you.
Contact us today:
From anywhere in the world, contact us on +234 9053130518 or email cessummit0518@gmail.com.
In addition, we wish you could help us share this post to reach others who need it.
Compliance Certificates are essential certificates for FG contractors. CAC incorporation certificate is just the starting point. Others are Tax clearance Certificate, NSITF, ITF & PENCOM Compliance certificates. If you need one, just get at us today.