Contract Compliance Certificate: CAC Incorporation Certificates
When Contract Compliance Certificates re needed, CAC Incorporation Certificate is No.1. to be demanded. This is what many people don't know. As a matter of fact, if your business is not registered with CAC in Nigeria you re not qualified to do any business with any government of Nigeria. Therefore, in this post we give you highlights on the need for this and how to get incorporation certificate.
What is Corporate Affairs Commission – C.A.C.
The Corporate Affairs Commission is the regulatory body. It's established to regulate the incorporation, running and winding up of business entities. These include companies, business names and incorporated trustees, in accordance with CAMA
The functions of the Commission are:
These functions re set out in section 7 of the Companies and Allied Matters Act – CAMA. They include the following:
To administer the Act. This is by regulating and supervision of the formation, incorporation, management and winding up of companies
To establish and maintain companies registry and offices in all the states of the Federation. The offices must be suitably and adequately equipped to discharge its functions under the Act or any law in respect of which it's charged with responsibility
Arrange and conduct an investigation into the affairs of any company. This is where the interests of the shareholders and the public so demand.
To undertake such other activities as are necessary or expedient for giving full effect to the provisions of the Act.
As a matter of fact, the Commission also registers Business Names, and Incorporated Trustees as well as provide a wide range of ancillary services
Incorporation Certificate For Contract Compliance Certificate: CAC Incorporation Certificates:
Furthermore, a certificate of incorporation is a document given by the companies' regulation agency of a country. In Nigeria this done by the Corporate Affairs Commission – CAC. The certificate is an evidence of the existence of an entity, and its right to do business. In other words, it signifies that the company not only exists, but also recognized by law.
In addition, a business name is the name your business operates under. You need to register a business name to make it lawful. The three major group of incorporation re listed below.
Types of Incorporation:
Registration of companies. This group include private, public, limited by share and non-limited by share etc.
Registration of business name
Incorporation of trustees – These are Clubs, churches, societies, town unions, and other NGOs.
The Need for It:
The need for this is that, if your business is not incorporated, you've no legal backing for your business. This simply means that you don't have legal standing to do business with other entities. More so, you cannot do business at all with any government office. These are some of the reasons why you need your entity registered.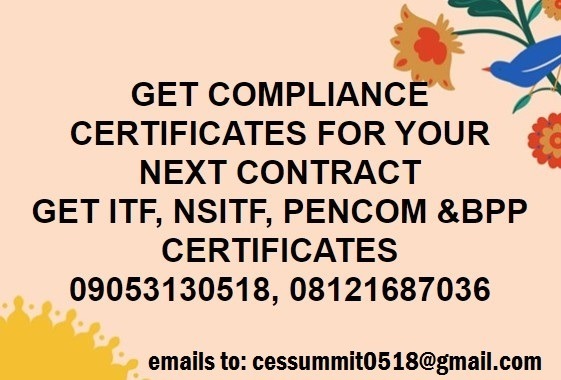 Requirements for Incorporation:
Now, if you need to register your business, take the following steps. We can also do them for you if you contact us.
Choose two suitable proposed names for the entity. This is for name availability check.
Choose type of company to register. You can register a private limited company, private unlimited company, company limited by guarantee or any other variety.
For other entities like business name and incorporated trustees, decide which one to incorporate.
Determine the aims, objectives and business of the company.
Provide registered principal address.
Furthermore,
Determine the share capital and shareholding formula among shareholders.
Provide the particulars of the Directors or board of trustee members. Means of ID inclusive.
Provide particulars of the company secretary.
Payment of the required fees.
As a matter of fact, applicant' ll be required to furnish details of shareholders. Such details will include names, occupation, residential address, email address, phone number and means of identification. Accepted IDs include driver's license, international passport or national identity card.
In fact, with the above provisions, the processing starts. In this regard, the duration will depend on certain variables. For business name and companies, the process is simplified. However, for any NGOs, the newspaper publication will be in the public domain for 28 days before registration commences. You need our help here.
On Contract Compliance Certificate: CAC Incorporation Certificates READ ALSO:
How we help you do this:
Furthermore, we start by searching for your entity's name availability. The reservation is for 60 days. We wish to use this opportunity to announce that – we've the capacity to help you get your entity incorporated. That's the first compliance certificate you need for your business.
Furthermore, we have an enlarged capacity to carry out for you other business start-up processes and business development services. Contact us immediately. CAC incorporation certificate is one of such. In fact, our business support services include processing statutory business annual returns for clients. These annual returns include those for tax clearance certificate, CAC annual returns, PENCOM, ITF and NSITF compliance certificates. Contact us today.
Our Procedure:
Our procedure is to generate all the documents needed for these. Your responsibility is to furnish us with the relevant information. Statutory fees must all be paid – some extra to cover ur logistics. Payments re made direct to the respective agency account or through company, bank account if you so desire.
Our Contact:
Finally, contact us from anywhere in the world on +234 9053130518 (office time), or 08121687036 or email cessummit0518@gmail.com.
In addition, if you enjoyed this post, kindly help us share to reach others who need it.
Summary Of Contract Compliance Certificate: CAC Incorporation Certificates :
Compliance Certificates are essential certificates for FG contractors. CAC incorporation certificate is just the starting point. Others re Tax clearance Certificate, NSITF, ITF & PENCOM Compliance certificates. If you need one, just get at us today.
C.A.C. certificate is a compliance certificate to bid for the next contract. Together with TCC, NSITF, ITF & PENCOM, BPP data base compliance certificates you win the contract.