Compliance Certificate: NSITF Certificate.
NSITF is the acronym for Nigeria Social Insurance Trust Fund. This is the procedure for obtaining NSITF certificate of compliance. Here also are the requirements. We bring you procedure for generating employer code and employee schedule of payment. If you are a business man, for you to participate in the next FG contract bidding exercise, Compliance Certificate: NSITF Certificate is a must compliance certificate.
The Federal Government of Nigeria has made it mandatory upon all employers to have their NSITF Registration done. This is a social insurance by government in a bid to protect employees from poverty after their employment service with employers. In fact, this is a solvent compensation fund managed in the interest of employees and employers in Nigeria.
NSITF:
Furthermore, NSITF is a government regulatory agent that manages all social security insurance schemes in Nigeria other than pension. In fact, NSITF Registration coverage applies to every person under employment of any incorporated employer. Ones you are registered and required payments made, an NSITF Compliance Certificate is Issued to you.
Why Need NSITF Certificate?
As a matter of fact, the issuance of NATIONAL SOCIAL INSURANCE TRUST FUND COMPLIANCE CERTIFICATE (NSITF) is an indication that an employer is up-to date with her social insurance commitment liabilities for its staff via NSITF.
What is the role of NSITF
In addition, this Scheme is designed for serving employees to ensure their adequate protection with regard to compensation whenever they suffer:
injuries from work place by accidents,
any injury in the course of work outside work place,
diseases emanating from working conditions
Therefore NSITF provides the following services;
NSITF Ensures Social Responsibility and Advocacy among all members.
Professional Management and Good Corporate Governance
Transparency and Accountability is one of their Key functions.
Make available Human Capital Development.
Ensure the Security of all Investible Fun
REQUIREMENTS FOR NSITF COMPLIANCE CERTIFICATE
Furthermore, if you must register for NSITF and obtain their compliance certificate, you must do the following;
You must show your firm's;
Certificate of Incorporation with CAC, and
Completed registration form ECS RE 01 , and
Present Payroll Schedule Form RE 03.
Tax clearance certificate – is evidence of activeness
Audited account – Another form of getting the employee total emoluments.
In fact, these are forms detailing employer, CEO, employee's details including their IDs.
NSITF Certificate:
The real question here is, as a contractor, what purpose does NSITF certificate serve you? Why must you have it?
As a matter of fact, the present purpose for NSITF certificate is to ensure that Government contracts, grants and state licenses are only given to organizations that are NSITF compliant. In fact, it's a written confirmation from NSITF office that your employee social insurance contribution affairs are in order at the date of issuance of the certificate. The implication is that, without it, you must not participate in the next contract bidding in Nigeria. And you know what that means. Yes! It means loss of money! Now, this is where our interest comes in. We don't want you to lose money.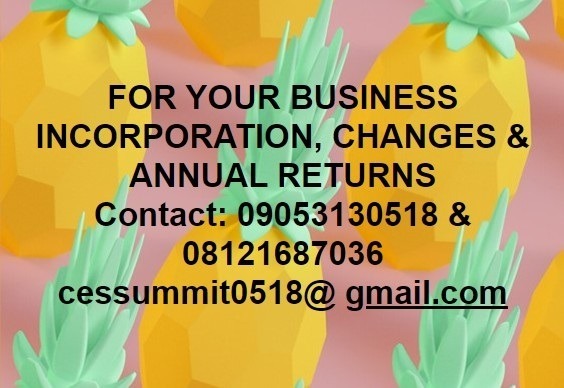 So, how do we help out here?
Furthermore, the solution we proffer here is to assist you comply to this. In fact, that's why you are reading this article. Contact us today for your business start-up processes and other business development services. The NSITF compliance certificate is one of such. In fact, our business support services include processing your various statutory business annual returns. You annual returns include those for tax clearance certificate, CAC annual returns, PENCOM and ITF compliance certificates. Contact us today.
In conclusion, Complete Entrepreneurship Summit (CESSUMMIT) will ensure you have your compliance certificates soon at a minimal cost. Our procedure is to generate the payment schedules for you. Then, you make the payment by yourself and send us evidence of payment to process your certificates. The only payment you will make to us is our professional fees. This our procedure is also educative for you.
READ ALSO:
Our Contact:
From wherever you are, contact us on +234 9053130518 or email cessummit0518@gmail.com.
We wish you could help us share this post to reach those who need it.
Compliance Certificates are essential certificates for FG contractors. Tax Clearance Certificate is like the starting point. Others are NSITF, ITF & PENCOM Compliance certificates.