Free Accounting Basics For Non-Accountant Entrepreneurs in Nigeria – We are here to define Accounting For Non-Accountant Entrepreneurs in Nigeria. This is part of our mentorship program for our young entrepreneurs. In fact, this is designed especially for those without accounting knowledge or background.
In this series of our mentorship program articles, we will be covering basic accounting issues starting by defining Accounting. Considering our audience, the young entrepreneurs, our definitions are going to be simple so that our audience will understand us better. Therefore, we will be covering in this series;
Users of Financial Accounting Information
Accounting Equation
The Rules of Debit and Credit
Double Entry Bookkeeping System
Accounting Cycle, i.e., analyzing, recording, classifying, summarizing and interpreting
To get the best out of these topics, you have to be clicking on the relevant topics for necessary references.
Accounting for Non-Accountants:
This type of accounting focuses on accounting concepts and processes. This is because, by establishing a foundation of knowledge of the accounting process, you will be better equipped to understand financial reports. In like manner you will understand how these reports enhance your knowledge of better informed management decisions.
Free Accounting Basics For Non-Accountant Entrepreneurs in Nigeria
Accounting as a Resource and Tool for Growth
Good accounting is necessary for an enterprise financial health. In fact,, accounting practices are important strategic tools for entrepreneurs. This is because, it allows small business managers to make future projections and predictions in real time.
Following our write-ups on this series will enable you gain an understanding of the basic accounting concepts, procedures and processes in a simple and practical way. It will help you learn the actual applications of said concepts, procedures and processes through a series of examples. And, finally, it will enable you to begin to appreciate and know the importance of the financial accounting reports and information for a better decision making.
The Accounting Categories:
As a matter of fact, accounting transaction are categories into classes called accounts. Generally, there are three broad categories: assets, liabilities, and equity. However, recording transactions into broad categories does not provide enough detail for managers to make decisions and actually use accounting information. That is why they re broken down further into more detailed accounts.
Assets:
Assets are tangible and intangible belongings. These are further classified into current, non-current, physical, operating, and non-operating. In act, the way accounting analysis re done, correctly identifying and classifying the types of assets is critical to the survival of a company, specifically its solvency and associated risks.
looking at it from another end, an asset are those items that often generate cash flows in the future. For instance a piece of machinery, a financial security, or a patent. Domestically, assets may include a house, car, investments, artwork, or home goods. And for corporations, assets re listed on the balance sheet and netted against liabilities and equity to get the net-worth of the business.
What are the equity accounts?
Equity defines level of ownership. So, the equity accounts include capital contributions by the owner(s) and withdrawals. In short, equity is the value of the owner's investment in the business. These owner's contributions can be in the form of cash as well as accumulated earnings that've not been distributed to the owners. In summary, looking at the equity accounts, capital contributions increase equity and withdrawals decrease it.
What about business revenues and expenses?
Furthermore, expenses are the costs of doing business. In fact, the word expense comes from the word expenditure, which means, "used up." So, as resources re used up to generate income, they re recognized as expenses. These business expenses include rent, salaries, advertising, administrative expenses and insurance.
On the other hand, revenues re the income generated by the company. Revenue may be earned by providing goods or services as well as earnings from investments. In short, revenue is the generation of wealth for the owners. Revenue increases owners' equity, while expenses are the consumption of resources, and therefore decrease owners' equity. Therefore, in a simple equation it is where revenue is more than expenses that increases equity.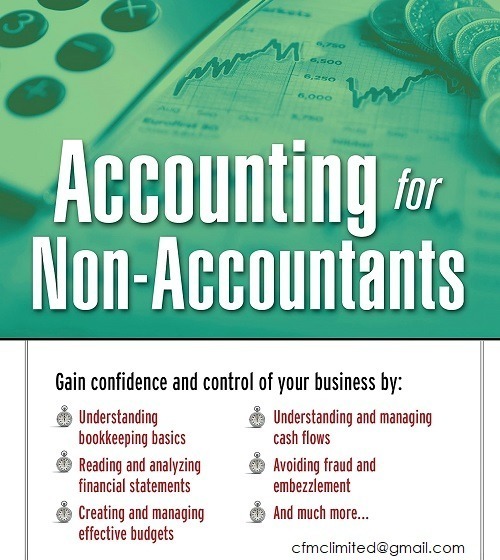 Read Also for Free Accounting Basics For Non-Accountant Entrepreneurs in Nigeria
In fact, these cover other entrepreneurial interest you may wish to know about. So, click to read.
Summing Up:
We have been able to deal with the definition of accounting in this first article. We will now go to other accounting concepts and procedures to aid you do your business well.
Now that we are here, you will do better if you follow us o n our face-book pages and help share this to reach your friends. Sharing is simple. By clicking any of the social media buttons on this page.
And contacting us is easy too. Dialing +234 9053130518/08034347851 or emailing via cessummit0518@gmail.com. is simple.