The Amazing feasibility study format for Small Business – Here we present to you a Feasibility study framework for your business. It's a standardized feasibility study framework that serves both small and medium-scale businesses.
The Amazing feasibility study format for Small Businesses defines every aspect of a feasibility study. So, it addresses issues relating to the Feasibility study title and all that is to be included in a feasibility study.
Cessummit Feasibility Study Info:
Cessummit presents professional touches on the feasibility study format. It gives out an amazing Step-by-Step feasibility study format. Our feasibility study formats are both in pdf and MS Word templates.
The Amazing feasibility study format for Small Business:
Here, we are going to discuss an example feasibility study project proposal and feasibility study template excel for self-adjustable values. Other feasibility study samples for small business pdf, the importance of feasibility study, and the function of a feasibility study are covered here.
Types of Feasibility Study:
We wish to highlight about 5 types of feasibility study to guide your understanding. Our focus is on business feasibility study or called also feasibility analysis. So, these are technical feasibility, financial feasibility, market feasibility, operational feasibility, and organization feasibility.
Technical feasibility:
Technical feasibility evaluates the technical needs of the operation. For instance, if you want to produce 5 tons of animal feed per day, this study tells you the capacity of the equipment to buy. It considers the make, durability, and monetary value of the equipment.
The Amazing feasibility study format for Small Business
Financial feasibility:
This is all about adding monetary value to all the technical, operational, and organizational feasibility projections. This analysis ends up showing whether the project to be embarked upon is viable or not.
Furthermore, this analysis shows if the anticipated volume of operation will be met and if the revenue generated from it can cover both the fixed and variable costs.
Market feasibility:
Here the size of the market/industry will determine the market share and competition being envisaged. And, all of these will influence the marketing strategies to apply to achieve the business goal.
Operational feasibility:
This is where you determine your production flow. Many standard businesses have operation flow charts. This is where you build it.
Working in conjunction with the technical feasibility team, you determine the volume of production, inputs, and personnel here.
The Amazing feasibility study format for Small Business
Organization feasibility:
We all know that the strength of any organization lies with the management team. Experience workers are better than beginners. This is where you determine who is what in the management of the organization and its operations.
I am glad you are still reading this article on The amazing feasibility study format for Small and medium scale Businesses. Having gone through the amazing types of feasibility studies which you can implement in your business, we wish to highlight the amazing steps you should be taking to work on each type of feasibility study.
The Amazing format:
This is a template. It's a step-by-step flow presentation. Therefore, we recommend the followings steps:
The introduction – Explain the challenge of embarking on this feasibility study here.
The background information – Some organizational history and the opportunity this operation/project is presenting to this business.
Requirements – List out all the fixed assets requirements and working capital requirements. You can do this in an excel sheet.
Evaluation – This evaluation means bringing into measurement the figures generated from the requirements section. This is where you generate all the financial statements that will guide your decisions on the business. In general terms, any business that shows a negative net profit margin may not be good for some businesses. But some must start like this and make their fortunes later.
Conclusions – Yes, present all the variables and parameters generated above here, the way they are.
Recommendation – Your opinion matters here. This is also where professionals come in. If you allow us.
The Amazing feasibility study format for Small Business
That was a good read also. Is professional advice that you follow these steps whenever you are conducting your feasibility study. Experience has also shown that many businessmen and women make mistakes while doing this. That is why we want to address these mistakes in the next paragraph.
Common mistakes to avoid:
Now a word of caution. We are presenting these common mistakes derived from our research and life experience. You are free to adhere to it or not.
Avoid underestimation of future losses – In accounting, this is under the conservatism concept. This principle tells us to recognize losses when they occur or seeming losses.
Overestimation of investment income – Still on the conservatism principle, you must avoid acknowledging contingent incomes. The concept warns that we don't count our chickens before they are hatched.
Unrealistic operating expense expectations – The danger here is that this makes a viable project look unviable. So, work on it.
Incomplete analysis of tax issues – This may be taxes relating to state, federal, or local government. We understand the problem of multiple taxation in Nigeria, so one needs to be very careful here.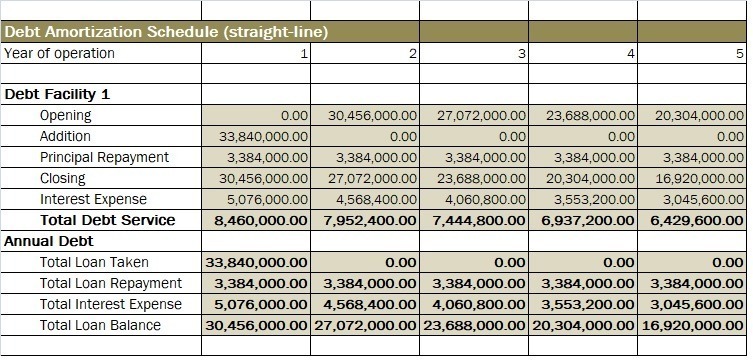 This table tells a lot of stories about your business debt funding. You can see and analyze the fund borrowed, additions, principal repayment, interest factors and their repayment schedule and total debt amortized annually. We can do the same for you especially developing a business plan for you.
The Amazing feasibility study format for Small Business
Read Also:
Do you need help?
Finally, it's necessary to ask if you need help. Generating The Amazing feasibility study format for Small and medium scale Businesses is a major line of service offered by cessummit.com. And, we are ready to serve you at any time. Contact us today at +234 905 313 0518, or cessummit0518@gmail.com if you want to generate a reliable business feasibility study/analysis.