Ongoing Entrepreneurship Training and Seminar in Nigeria
Ongoing Entrepreneurship Training and Seminar in Nigeria presents Entrepreneurship development. As a matter of fact, these are training on Enterprise Development and Young Entrepreneurship empowerment. They are anchored on Skill Acquisition and Entrepreneurship Training. And, these are in conjunction with Business conferences, Business Seminars, and Summits.
HOW TO ATTEND OUR PROGRAMMES:
Furthermore, our Entrepreneurship Empowerment training programmes come up periodically. These are advertised both on this site, with public posters/banners and other media. However, some prospective trainees indicate by phone call, email and SMS messages. Others meet us at the training venue. As at now, our trainings are free.
Click here for Training Programmes
However, trainees are expected to choose area of training. This is where they pay for their resource materials and a token for admin purposes. Our training centre is located in Nyanya, Abuja, FCT for now.
Furthermore, there are other specialized trainings that has to do with SMADEN or NEPC etc. staff. Such training are structured as per current needs with such organisations issuing certificate of attendants to the participants. The trainings are structured towards one federal or institutional grants or the other.
Overall, those who attend our periodic trainings and seminars also get attendance certificate. This is a corporate organization, so our documents are certified.
CESSUMMIT SKILL PROGRAMMES @ Ongoing Entrepreneurship Training and Seminar in Nigeria:
Furthermore, this is the other aspect of our programme. These skill acquisition programmes are mainly for youth. It's also good for those who want to update their knowledge on the particular skill.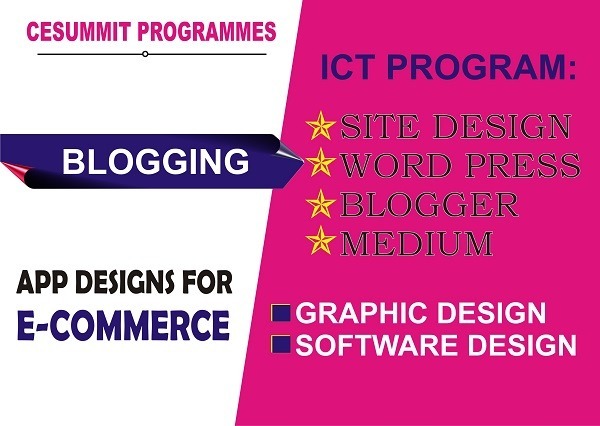 1. ICT RELATED BUSINESSES:
WEBSITE DESIGN
E-commerce TRADING SITE DESIGN
BLOGGING
APP DESIGN – ANDROID & IOS
SOFTWARE DESIGN
GRAPHIC DESIGNS
2. BUSINESS START-UP & SUPPORT PROGRMMES:
This include:
Generation of business ideas,
Business plan development and
Incorporation documentations.
Contract bidding compliance certificates
ENTREPRENEURIAL TRAINING AND DEVELOPMENT:
As a matter of fact, training and development refers to educational or skill enhancement activities designed/created to enhance the knowledge and skills of trainees. It includes providing information and instruction on how to better perform specific tasks.
This is what CESSUMMIT do for you. We therefore, address a variety of entrepreneurship training topics to develop a holistic entrepreneur.
Therefore, our training benchmarks on the following:
ICT Training.
Quality Training.
Skills Training.
Entrepreneurship
Professional Training
Managerial Training
Ongoing Entrepreneurship Training and Seminar in Nigeria – SEMINAR/CONFERENCE:
Our programmes also leverages on seminar and workshop conferences to enrich young entrepreneur.
As a matter of fact, seminar is a conference or other meeting for discussion or training. Such conferences are led by a trainer. Seminars are designed for students to talk about the relevant topics. In this connection, students take an active part in the discussions.
In fact, the key objective of our Seminars and Workshops is to provide participants with powerful strategies and skills that will impact their businesses well-being, and quality of life.
SUMMIT BRAND @ Ongoing Entrepreneurship Training and Seminar in Nigeria:
Our type of summit meeting is a meeting of entrepreneurial heads. An entrepreneur is a person who organizes and operates a business or businesses. He/she takes on greater than normal financial risks in order to operate his/her businesses.
Our entrepreneurial empowerment training program, therefore, is designed to provide an alternate route to gainful employment. This is more for economically disadvantaged individuals through the establishment of their own business.
Steps to Becoming an Entrepreneur:
Overall, if you want to be an entrepreneur, please take the following steps. And then plan to join us in the next CESSUMMIT training.
Generate the right business for yourself
Determine if you should get more empowerment.
Plan your business with our business plan.
Build your Network
Our Contacts:
Contact us for your business empowerment training. Call 09053130518, 08121687036. Then send email to cessummit0518@gmail.com. Please help us share this article to reach your friends. Thanks.