Entrepreneurs and the Economy: As a Coordinating Agent In economist-speak, an entrepreneur acts as a coordinating agent in a capitalist economy. This coordination takes the form of resources being diverted toward new potential profit opportunities. The entrepreneur moves various resources, both tangible and intangible, promoting capital formation.
Cessummit.com business tip:
Do you require assistance and business mentoring for your business? Contact us immediately at cessummit.com for CAC documentation. Additionally, we provide each company with a well-written business plan and comprehensive business feasibility analysis. Furthermore, cessummit.com comes up with a complete guide to entrepreneurship just for you. Add this page to your bookmarks!
Entrepreneurs and the Economy: Works Together as Resource Coordinating Agents
In 2020, there were 31.7 million small businesses in the United States.
In a market full of uncertainty, it is the entrepreneur who can actually help clear up uncertainty, as they make judgments or assume the risk. To the extent that capitalism is a dynamic profit-and-loss system, entrepreneurs drive efficient discovery and consistently reveal knowledge.
Established firms face increased competition and challenges from entrepreneurs, which often spurs them toward research and development efforts as well. In technical economic terms, the entrepreneur disrupts the course toward steady-state equilibrium.
How Entrepreneurship Helps Economies:
Nurturing entrepreneurship can have a positive impact on an economy and a society in several ways. For starters, entrepreneurs create new businesses. They invent goods and services, resulting in employment, and often create a ripple effect, resulting in more and more development. For example, after a few information technology companies began in India in the 1990s, businesses in associated industries, like call center operations and hardware providers, began to develop too, offering support services and products.
Entrepreneurs and the Economy: Works Together as Resource Coordinating Agents
Entrepreneurs add to the gross national income. Existing businesses may remain confined to their markets and eventually hit an income ceiling. But new products or technologies create new markets and new wealth. And increased employment and higher earnings contribute to a nation's tax base, enabling greater government spending on public projects.
Entrepreneurs create social change. They break tradition with unique inventions that reduce dependence on existing methods and systems, sometimes rendering them obsolete. Smartphones and their apps, for example, have revolutionized work and play across the globe.
Entrepreneurship encourages structural change. Existing firms often struggle to adjust to new market conditions and permanent changes, getting locked into their old positions. They fail to make the necessary internal adjustments and lack the ability for creative destruction. The entry of new businesses and the exit of worn-out firms can help to free firms from a locked-in position. Moreover, entrepreneurs may create entirely new markets and industries that become the engines of future growth processes.
Entrepreneurs and the Economy: Works Together as Resource Coordinating Agents
Balanced Regional Development. Entrepreneurs in the public and private sectors help to remove regional disparities in economic development. They set up industries in backward areas to avail various concessions and subsidies offered by the central and state governments.
Backward and Forward Linkage. An entrepreneur initiates change which has a chain reaction. Setting up of an enterprise has several backward and forward linkages. For example- the establishment of a steel plant generates several ancillary units and expands the demand for iron ore, coal, etc.
These are backward linkages. By increasing the supply of steel, the plant facilitates the growth of machine building, tube making, utensil manufacturing and such other units.
Entrepreneurs create an atmosphere of enthusiasm and convey a sense of purpose. They give an organization its momentum. Entrepreneurial behavior is critical to the long term vitality of every economy. The practice of entrepreneurship is as important to established firms as it is to new ones.
Entrepreneurs invest in community projects and help charities and other non-profit organizations, supporting causes beyond their own. Bill Gates, for example, has used his considerable wealth for education and public health initiatives.
Entrepreneurs and the Economy: Works Together as Resource Coordinating Agents
Entrepreneurial Ecosystems:
There is research that shows high levels of self-employment can stall economic development: Entrepreneurship, if not properly regulated, can lead to unfair market practices and corruption, and too many entrepreneurs can create income inequalities in society. Overall, though, entrepreneurship is a critical driver of innovation and economic growth. Therefore, fostering entrepreneurship is an important part of the economic growth strategies of many local and national governments around the world.
Entrepreneurs and the Economy: Works Together as Resource Coordinating Agents
To this end, governments commonly assist in the development of entrepreneurial ecosystems, which may include entrepreneurs themselves, government-sponsored assistance programs, and venture capitalists. They may also include non-government organizations, such as entrepreneurs' associations, business incubators, and education programs.
For example, California's Silicon Valley is often cited as an example of a well-functioning entrepreneurial ecosystem. The region has a well-developed venture capital base, a large pool of well-educated talent, especially in technical fields, and a wide range of government and non-government programs fostering new ventures and providing information and support to entrepreneurs
Economies' material resources, industrial environments, and the political system's receptivity to the entrepreneurial function all affect how important entrepreneurship is to economic development. When opportunities are favorable, entrepreneurs give more.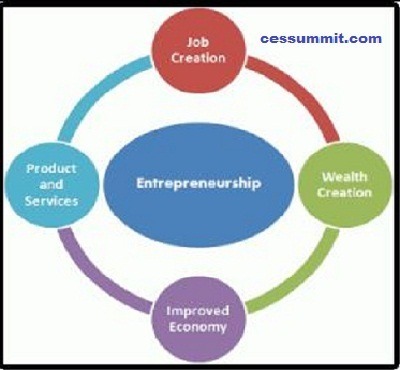 Entrepreneurs and the Economy: Works Together as Resource Coordinating Agents
Related post:
Summary: Entrepreneurs and the Economy: Works Together as Resource Coordinating Agents
Finally, on Entrepreneurs and the Economy: Works Together as Resource Coordinating Agents, This article has shown you how entrepreneurship and the economy are intertwined to generate resources to the benefit of new potential profit opportunities. Also, we can give you a good business plan and help with CAC registration. Contact us today at +234 905 313 0518 or cessummit0518@gmail.com for more information.