Incorporation Miscellaneous Fillings @ CAC Nigeria
Incorporation Miscellaneous Fillings @ CAC Nigeria is another important fact to consider. We have been able to deal with a lot of specific incorporation filings. However, there are those ones classified as miscellaneous. This post, therefore, is centred on all those other filings that you think re not possible to apply for. It's actually telling you that you can ask anything information from CAC at any time, as long as you satisfy the requirements. Incorporation Miscellaneous Fillings @ CAC Nigeria gets you there.
Miscellaneous Filings @ CAC Nigeria are post incorporation exercise. As a matter of fact, you can ask for forms for incorporated trustees or list of incorporated trustees in Nigeria. You can also ask for list of registered companies in Nigeria and how to check if a business name is available on CAC data base. In addition, are for list of documents to upload for CAC business name registration. And many more.
Specific Highlights:
Here are explanations on certain specific searches that cover a lot of your requests.
Certified true copy of certificate of registration (CTC):
For every information you need about your incorporation certificate, this covers it. So, if you need evidence of incorporation, this will satisfy that. Again, if your registration is in doubt by a third party, get this. And, when the original certificate is misplaced, please, get this as a replacement.
Certified true copies of memorandum and articles of association (MEMAT):
Perhaps, you have misplaced your memorandum and article of association, you have to apply for the certified true copy. If you need to prove to a third party the content of your MEMAT, this is what you need. In fact, if you want to verify the content of your MEMAT, get this. And, when you want to amend your MEMAT and need to know what clauses to amend, this 'll be needed. However, the CTC is only needed when you've misplaced your incorporated copy.

READ ALSO:
Manual Search Report prepared by officers of the Commission:
In addition, there could be need for a manual search report from CAC office. Then, you have to apply for it. This report is authentic and will give information requested.
Certified true copies of other documents:
Among all the other incorporation documents, their CTC are obtainable from CAC. This is an opening to get whatever information you need from CAC for replacement of your lost documents.
The Requirements:
Every request must be supported by the required documents. Some of them is to prove ownership of the entity you want report on. Others may be for formal application and legal fulfillment. So, you may be required to submit;
A formal application requesting what you want
An affidavit justifying ownership and how you lost the original certificate
Evidence of payment of the statutory fee,
And others
Incorporation Miscellaneous Fillings @ CAC Nigeria. – The Process:
The process is simple. But it's simpler when an accredited agent handles these request. That's why I want to introduce our firm to you. We re CAC accredited consultants. Check us out on this site to find out more things we can do for you. We are professional accountants, tax managers and business consultants. Trust us. Our years of industry experience will help you so much.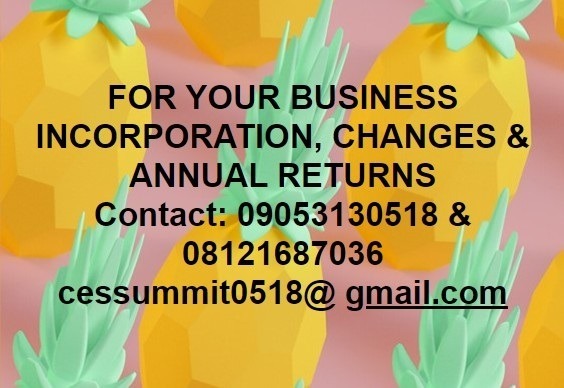 As a matter of fact, Complete Entrepreneurship Summit (CESSUMMIT), the owners of this website, is an entrepreneurship empowerment outfit. Our goal is to help out every entrepreneur in need of information. In fact, through seminars, workshops, training and mentorship programmes, we empower business entrepreneurs. So, feel free to contact us for your entrepreneurial challenges including Incorporation Miscellaneous Fillings @ CAC. Call +234 9053130518 (office time)/ 08121687036 or email to cessummit0518@gmail.com.
We would like you to please help us share this to reach your contacts. Somebody may need it