Biz Start-up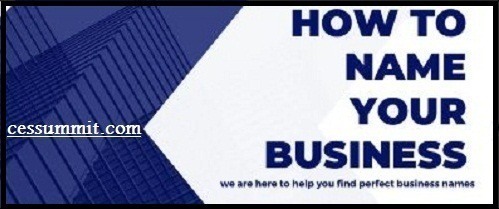 How to Find the Perfect Name for your Business
How to Find the Perfect Name for your Business – A Business name represents your organization and brand, not just a collection of words. A name that appeals to your target audience might help you save money because you won't need to spend as much on advertising. Also, a solid reputation can help you stand out, expand your market, and provide new growth opportunities. However, a business name generator can help you to generate a creative business name, catchy name, and unique business name that can be advertising enough to attract customers.
Furthermore, naming a company can be tedious, so to help save time and energy, follow this post to the end.
Cessummit.com business tip:
We offer business Mentorship and business plans and share business ideas with our readers and customers. Also, the travels & tours guide and business support guides are abundant at cessummit.com. Furthermore, you can apply for Loans & Grants, CAC registration, and more on this page. Bookmark this page and share it with friends!
How to Find the Perfect Name for your Business
We have refined a nine-step naming process that is both comprehensive and time-saving after working with more than 100 businesses to come up with names. These will help you overcome naming challenges and find an ideal business name.
Below are the steps to naming your business with ease:
Step 1. Create A Clear Statement of Purpose
Put some time and effort into defining your concept. Start by jotting down succinct sentences that sum up your idea in simple words. There are many formulas and even elaborate strategies for developing your statement of purpose (aka value proposition or unique selling proposition). Here is a simple formula, in case you're new to the concept: [Great Business Name] helps [audience] [core benefits].
Step 2. Create A Persona Or Avatar Of Your Ideal Customer
Envision the types of people who will benefit most from your idea and be most interested in it (and in most cases, able to pay for it). This is called persona or avatar creation, and it's an essential part of the naming process. Ask yourself questions like, "Who am I naming this for?" and "Who should this name appeal to?" Think about demographics including age, gender, location and income. Then define characteristics of your ideal customer, such as "loves great food," "budget conscious" or "likes trying new things." Lastly, jot down relevant customer wants or desires, such as "hungry," "doesn't want to cook," or "wants an affordable option."
How to Find the Perfect Name for your Business
Step 3. Validate Your Statement Of Purpose
Talk to real people who fit the descriptors you came up with during step two. Pick their brains. Find out their opinions when it comes to your ideas. After undertaking market research, make any adjustments required to your statement of purpose.
Step 4. Dig Deep
Choosing a name is a very important decision that can make or break your awesome idea or new business. To ensure you end up with the right sort of name ideas on your shortlist, you should consider the following:
Emotions: Decide how you want people to feel when they hear your company name. Are you serious and professional, fun and quirky, or modern and hip?
Story: Take a stab at writing your company story. (While perfecting your company story is an ongoing challenge, I recommend starting on it early and honing it often).
Customer Benefits: Create a list of short statements about why your ideal persona (from step two) will buy from you, i.e. your "selling highlights." Dig deep. Some you'll cross off the list right away, others will make you exclaim, "Wow! Why didn't I think of that sooner?"
Models: Get back on the internet for a little more research. Your goal here is to make a list of names and brands that you love and even some that you despise (we call these negative models). You never want to copy a name! However, modeling can provide much-needed inspiration.
How to Find the Perfect Name for your Business
Step 5. Enlist Help
Coming up with a great name on your own is very frustrating for most people. When you consult others, you are much more likely to find the perfect name and feel confident in your decision. Ensure you do the following:
Assemble Your Team: Recruit your naming team and decide how you will communicate (e.g. email/a collaboration tool like Basecamp/in person).
Share Your Naming Brief: Provide a copy of key information about your idea, as well as the work you've undertaken in the first four steps, to your team.
Keep A Running List: Include all name suggestions with notes about each one.
Consider Every Idea: One by one, go through every name submitted carefully.
Provide Feedback: Respond to ideas with your opinion and any ideas of your own about how the focus or style of the name could be modified to better fit your aims.
Not only is the above great for the creative process, but you will also learn a lot about your business — the challenge with this method is finding people willing to participate.
How to Find the Perfect Name for your Business
Step 6. Make A Shortlist
It's time to brainstorm and whittle your list down until you have a workable shortlist.
Step 7. Analyze Linguistics
Don't wait until you're ready for international expansion to discover that your name means something terribly offensive in another language. Analyzing the linguistics of your chosen name can be done yourself, but it's a mammoth task. At a minimum, consider using tools such as Google Translate to check the meaning in popular languages.
Step 8. Make Sure It's Legal
Always consult a professional when it comes to the legal side of naming. Due diligence is imperative when it comes to trademark issues. After all, a cease-and-desist letter can put a real damper on things. You can check for any obvious trademark conflicts on USPTO.gov website; however, a comprehensive trademark check also requires checking for similar sounding names and spelling variations.
Step 9. Validate Your Name
Audience validation of your name will help you feel confident in your decision. It may be that you have two names you simply can't decide between: Running a quick online poll with your target demographics can help you understand which name connects better with your target customers.
Coming up with a name can be a daunting process. However, if you follow a structured methodology, you are much more likely to end up with a name that is not only unique but also resonates strongly with your customers.
Let us help you get a unique business name !!!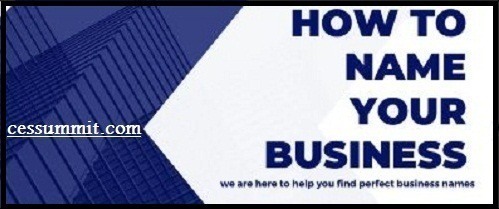 How to Find the Perfect Name for your Business
Read Also:
Summary: How to Find the Perfect Name for your Business
Finally, on How to Find the Perfect Name for your Business, this article has shown you that even though finding a business name can be tedious, you can make it simple by following these nine (9) steps. However, We can help you with Business Plans for businesses like the exportation of Palm oil, the exportation of Ginger, the importation of pharmaceuticals, etc. Furthermore, You can reach us today at +234 905 313 0518 or cessummit0518@gmail.com for more information.
How to Find the Perfect Name for your Business