Annual General Meeting Extension Application for Public Private Company
Here are the requirements for Annual General Meeting Extension Application for Public Private Company. In fact, this post gives details of requirements and procedure for application for extension of time for holding of annual general meeting by public or private company. CAMA provides that every company shall in each year hold an Annual General Meeting of its shareholders.  And that not more than fifteen months shall elapse between the date of one annual general meeting of the company and that of the next. And that the first annual general meeting of new Company shall be held within eighteen months of its incorporation. While future annual general meetings shall be held within six-months of closing of the financial year.
As a matter of fact, this post concerns the application requirements and reasons for asking for postponement of the AGM. Therefore, if you are wondering how to go about issues concerning your annual general meeting, the detail are here. Just read on.

CAMA Provisions for Annual General Meeting Extension Application for Public Private Company:
In addition, CAMA goes further to explain – that except for the first annual general meeting, the Commission (CAC) shall have power to extend the time within which any annual general meeting shall be held, by a period not exceeding three-months.  And, if there is a default, the Commission, may, on the application of any member of the company call, or direct the calling of, a general meeting of the company and give such ancillary or consequential directions as the Commission thinks expedient.
PENALTIES FOR DEFAULT:
Furthermore, penalty is attracted if there's default  in holding  meeting  or  complying with any directions of the Commission in accordance with relevant section of CAMA. In that case, the company and every officer of the company who is in default, shall be guilty of an offense and be liable to a stipulated fine.
Now Why Must You Postpone the AGM:
In fact, this is where the company feels that it is not possible to hold the Annual General Meeting within the due time period of 6 months from close of Financial Year. Then, the company may apply for extension of date of AGM and the Registrar may, for any special reason, extend the time. But this is not applicable to new companies who have 18 months from incorporation to hold AGM.
 However, notice must be filed well in advance. Again, the time to be granted depends and varies from case-to-case.
Some of the reasons are that:
Final accounts not finalized on-time.
Many shareholders may be absent leading to lack of quorum.
Other special reasons if such reasons are valid and justified.
Any of the following can justify the 3 above reasons.
Non-signing of financial statements due to non-availability of Auditors due to resignation, death, incapacity to sign or such other valid reason.
Non availability of Managing Director to sign the financial statements.
And, non-readiness of the financial statements due to natural calamity, due to loss of financial data.
The sudden death of Director
The confiscation of Books of accounts by Income Tax Department,
Serious and Fraud Investigation by any other Government officials.
Requirements and Procedure to file application for time extension:
Chairman/ Director of the company shall duly call for a meeting of Board of Director to decide;
To Pass a resolution for extension of time limit for holding annual general meeting specifying the due reason for extension.
To file an application to the Registrar of Companies formally
Special reason for not to be holding of AGM along with other necessary information to be provided
To attach the certified true copy of the Board Resolution
Follow up with the office of the Registrar of Company on this'
Therefore, the registrar shall examine the application on the specific grounds and may grant an extension, if it thinks it necessary to grant the same. And issue certificate of grant of extension in holding of Annual General Meeting of the company.
RELATED TOPICS:
Annual General Meeting Agenda:
The functions of business undertaken at a typical annual general meeting re listed as follows:
The declaration of dividend among shareholders
Consideration of annual accounts
Discussion of the director's report and the auditor's report
Appointment and fixing of the remuneration of the statutory auditors
Appointing replacement directors in place of existing directors retiring
Documents required along with notice of annual general meeting:
Copy of annual accounts of the company
Director's report on the company's position for the given year
Report by the Auditor of the annual accounts.
A Professional Advice For Annual General Meeting Extension Application for Public Private Company:
There is need for a professional guidance on issues like this. Do not think that the extra fee for a professional advice is not worth it. The fact, is that it may cost you more, if you neglect it.  So, where this advice is justified, don't hesitate to contact +234 9053130518 (office time)/ 08121687036 or email to cessummit0518@gmail.com.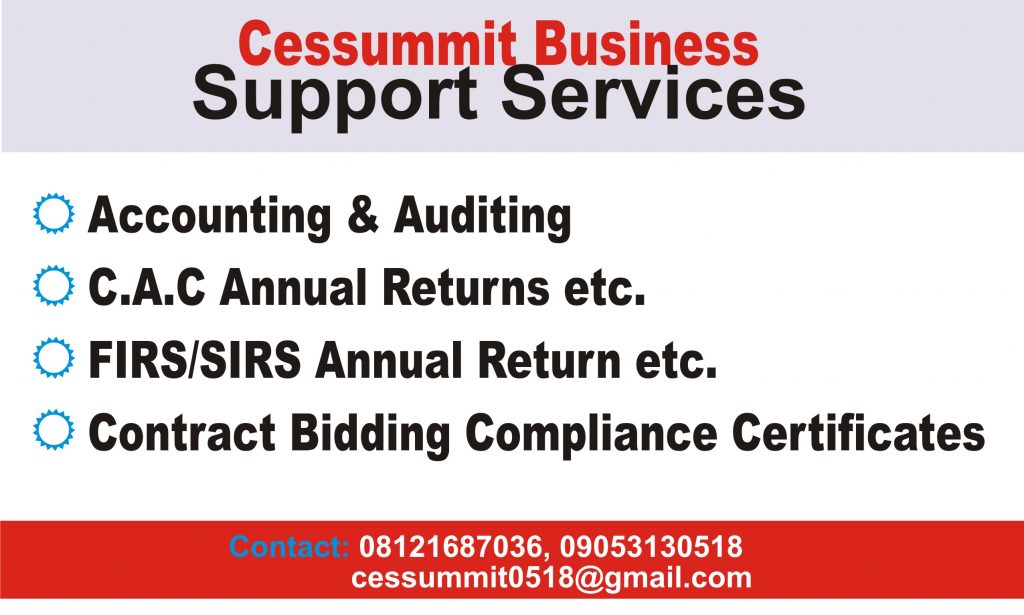 In conclusion, Complete Entrepreneurship Summit (CESSUMMIT), the owners of this website, is an entrepreneurship empowerment outfit. Our goal is to help out every entrepreneur in need of information. In fact, through seminars, workshops, training and mentorship programmes, we empower business entrepreneurs. So, feel free to contact us for your entrepreneurial challenges including file filing of notice for change of date for annual general meeting at CAC.
Check us out on this site to find out more things we can do for you. We are professional accountants, tax managers and business consultants. Trust us. Our years of industry experience will help you so much.
We would like you to please help us share this to reach your contacts. Somebody may need it