Biz Start-up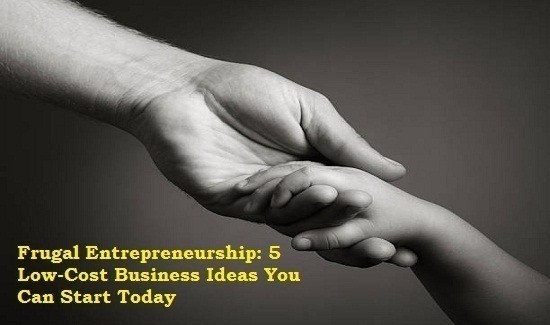 Frugal Entrepreneurship: 5 Low-Cost Business Ideas You Can Start Today
Frugal Entrepreneurship: 5 Low-Cost Business Ideas You Can Start Today – Frugal entrepreneurship is a great way to start a business without breaking the bank. With the right idea, you can build a successful business without investing a lot of money upfront. Here are five low-cost business ideas that you can start today:
Social Media Management: Many small business owners struggle to maintain their social media presence while running their business. If you're a social media whiz, you can offer your services to these business owners. All you need is a computer and internet connection to manage social media accounts, create content, and schedule posts.
Online Tutoring: If you have expertise in a particular subject, you can offer online tutoring services. You can use platforms like Zoom or Skype to teach students from all over the world. You can start by offering your services to family and friends, and then expand your business through referrals.
Freelance Writing: Freelance writing is a great way to make money online. If you have a talent for writing, you can offer your services to businesses and individuals who need content for their websites, blogs, or social media accounts. All you need is a computer and internet connection to get started.
Personal Shopping: Many people don't have the time or inclination to go shopping for themselves. However, if you have a good sense of style and enjoy shopping, you can offer personal shopping services. You can work with clients to create a wardrobe that fits their style and budget.
Pet Sitting: If you love animals, pet sitting can be a great way to earn money. You can offer your services to people who are going on vacation or need someone to care for their pets while they're at work. You can start by offering your services to friends and family, and then expand your business through referrals.
In conclusion, there are many low-cost business ideas that you can start today. All you need is a good idea, some basic tools, and the determination to succeed. With these five ideas, you can start your own business and work towards financial freedom.
Frugal Entrepreneurship: 5 Low-Cost Business Ideas You Can Start Today
Introduction:
Frugal entrepreneurship refers to the practice of starting and growing a business using minimal resources and finding innovative ways to reduce costs while still achieving success. Frugal entrepreneurs focus on creating value for their customers without compromising on quality, while keeping their expenses as low as possible.
Advantages of frugal entrepreneurship include:
Lower start-up costs: By finding creative ways to reduce expenses, frugal entrepreneurs can start their businesses with less capital than traditional entrepreneurs, making it easier to get their ideas off the ground.
Greater flexibility: Because frugal entrepreneurs aren't tied to expensive investments or long-term contracts, they have more flexibility to adapt to changing market conditions.
Increased innovation: Frugal entrepreneurs are often forced to find unconventional solutions to business challenges, which can lead to greater innovation and creativity.
Improved financial stability: By focusing on cost control, frugal entrepreneurs can achieve profitability more quickly and with less risk than those who invest heavily in their businesses from the outset.
The importance of low-cost business ideas is also significant, especially in today's economy, where many people are struggling to make ends meet. By creating businesses that are accessible to a wider range of people, frugal entrepreneurs can help to create jobs, stimulate economic growth, and provide valuable products and services to their communities. Additionally, low-cost business ideas often have a lower environmental impact, as they tend to be more sustainable and less resource-intensive than traditional businesses.
Frugal Entrepreneurship: 5 Low-Cost Business Ideas You Can Start Today
Low-Cost Business Idea #1: Social Media Management:
Social media management involves creating, curating, and publishing content on social media platforms to increase brand awareness, engagement, and traffic. The role requires a range of skills and qualifications, including:
Skills:
Excellent written communication skills
Strong visual content creation skills
Ability to analyze data and adjust social media strategies accordingly
Knowledge of social media platforms and their algorithms
Customer service and community management skills
Ability to collaborate with other teams and stakeholders
Basic graphic design skills
Qualifications:
A degree in marketing, communications, or a related field
Relevant work experience in social media management or marketing
Familiarity with social media management tools and analytics software
Tips for success:
Develop a social media strategy that aligns with the brand's goals and target audience
Create engaging content that encourages conversation and shares
Monitor social media conversations and respond promptly to customer inquiries or complaints
Analyze data regularly to assess the performance of social media campaigns and adjust strategies accordingly
Stay up-to-date with the latest social media trends and algorithm changes
Collaborate with other teams, such as customer service or PR, to ensure a consistent brand voice across all channels
Potential income: The salary for a social media manager varies depending on experience, location, and industry. According to Glass door, the average base pay for a social media manager in the United States is $56,000 per year. However, experienced social media managers in certain industries, such as tech or finance, can earn well into six figures. Freelance social media managers can charge hourly rates or project-based fees, which can range from $50 to $200 per hour, depending on their experience and the scope of the project.
Frugal Entrepreneurship: 5 Low-Cost Business Ideas You Can Start Today
Low-Cost Business Idea #2: Online Tutoring:
Overview of online tutoring:
Online tutoring is a form of teaching where tutors use the internet to deliver lessons to students. However, this method of teaching has become increasingly popular in recent years, as more and more people have access to the internet and online tools that make it easier to communicate with students. Online tutoring can cover a wide range of subjects, from academic tutoring to language learning, test preparation, and professional development.
Necessary skills and qualifications:
To become an online tutor, you need to have a few key skills and qualifications. First and foremost, you should have expertise in the subject(s) you plan to teach. This can be demonstrated through a degree, certification, or extensive experience in the field. You should also have excellent communication skills, both written and verbal, and the ability to explain complex ideas in a clear and concise way. In addition, you should be comfortable using online tools and technology, such as video conferencing software, document sharing platforms, and online whiteboards.
Tips for success:
Here are some tips for succeeding as an online tutor:
Be organized: Plan your lessons in advance and have all the materials you need ready before your session.
Be flexible: Be willing to adjust your teaching style and methods to accommodate different learning styles and needs.
Communicate effectively: Be clear and concise in your communication, and make sure your students understand what you are trying to teach them.
Use technology effectively: Make sure you are comfortable using the online tools and technology you need to deliver your lessons.
Finally, provide feedback: Give constructive feedback to your students and help them identify areas where they can improve.
Potential income:
The potential income for online tutoring varies depending on several factors, such as your qualifications, experience, subject matter expertise, and the demand for your services. According to Payscale, the average hourly rate for online tutors in the United States is around $20 to $30 per hour, but this can vary widely based on the factors mentioned above. Some tutors charge more for specialized or advanced subjects, while others may charge less for more basic subjects or for students with lower budgets. Overall, online tutoring can be a lucrative side hustle or a full-time career, depending on your goals and circumstances.
Frugal Entrepreneurship: 5 Low-Cost Business Ideas You Can Start Today
Low-Cost Business Idea #3: Personal Shopping and Styling:
Personal shopping and styling involves helping clients to choose clothing, accessories, and other items to create a desired look or style. However, as a personal shopper and stylist, you may work with individuals or businesses, and your role may involve shopping for clothes and accessories, offering fashion advice, and helping clients to create outfits that suit their personality, body type, and lifestyle.
Skills and Qualifications:
Excellent communication and interpersonal skills
Knowledge of fashion trends and style
Ability to work with different body types and styles
Also, the ability to build relationships and trust with clients
Knowledge of fabrics, clothing construction, and garment care
Good organizational and time-management skills
Ability to work independently and under pressure
Relevant education or experience in fashion or related field
Tips for Success:
Build a strong network of contacts in the fashion industry
Keep up with the latest fashion trends and developments
Also, offer personalized service and build a strong relationship with clients
Be flexible and open to new ideas and styles
Provide excellent customer service and follow-up
Market yourself and your services effectively
Potential Income:
The income of a personal shopper and stylist can vary depending on a number of factors, including location, experience, and the type of clients they work with. However, on average, a personal shopper and stylist can earn between $50,000 and $100,000 per year. Some personal shoppers and stylists charge hourly rates, while others charge a percentage of the total cost of items purchased for their clients.
Frugal Entrepreneurship: 5 Low-Cost Business Ideas You Can Start Today
Low-Cost Business Idea #4: Pet Services:
Overview of Pet Services:
Pet services are any type of service that is provided for pets, including dogs, cats, birds, and other animals. Some of the most common pet services include pet sitting, dog walking, grooming, and training. Other pet services include veterinary care, pet photography, and pet transportation.
Necessary Skills and Qualifications:
The skills and qualifications needed for pet services vary depending on the type of service. For example, pet sitters and dog walkers need to be comfortable working with animals, be physically fit to walk and handle dogs of all sizes, and have good communication skills to interact with clients. Groomers need to have knowledge of animal behavior and grooming techniques and be able to work with animals that may be anxious or aggressive. Veterinarians require extensive education and training in animal health and medical care.
Tips for Success:
To be successful in the pet service industry, it is important to have a love for animals, be dependable, and provide high-quality services. However, building a good reputation and establishing relationships with clients and their pets is essential for a successful pet service business. Providing excellent customer service, being flexible with scheduling, and having competitive pricing can also help attract and retain clients.
Potential Income:
The potential income for pet services varies depending on the type of service, location, and level of experience. Also, according to the Bureau of Labor Statistics, the median hourly wage for animal caretakers, including pet sitters and dog walkers, was $12.09 in 2020. Groomers may earn more, with a median annual salary of $27,570 in 2020. Veterinarians earn a much higher salary, with a median annual salary of $98,860 in 2020. However, it is important to note that income can vary widely based on the type of pet service and location.
Frugal Entrepreneurship: 5 Low-Cost Business Ideas You Can Start Today
Low-Cost Business Idea #5: Freelance Writing:
Overview of Freelance Writing:
Freelance writing involves creating written content for clients on a project basis. Freelance writers can work from home or anywhere with an internet connection. Also, you can write on a wide range of topics, including blog posts, articles, web copy, white papers, eBooks, and more.
Necessary Skills and Qualifications:
To be a successful freelance writer, you should have excellent writing skills, including the ability to write clearly and concisely, and to adapt your writing style to different audiences and formats. Furthermore, other important skills include research, time management, organization, and communication. A degree in journalism, English, or a related field can be helpful, but it's not always necessary.
Tips for Success:
Build a strong portfolio: Create a portfolio of your best writing samples to showcase your skills and experience.
Network and market yourself: Reach out to potential clients and market your services on social media and freelance websites.
Also, be professional: Always meet deadlines, communicate clearly with clients, and provide high-quality work.
Specialize: Consider specializing in a niche area to stand out from the competition and command higher rates.
Stay organized: Keep track of deadlines, invoices, and client information to stay on top of your workload.
Potential Income:
However, Freelance writing rates vary widely depending on the type of writing, the level of expertise required, and the industry. As a general rule, beginner freelance writers can expect to earn around $0.10 to $0.20 per word, while experienced writers can earn $0.50 to $2.00 or more per word. On a per-hour basis, rates can range from $25 to $200 or more depending on the complexity of the project. It's important to note that freelance writing income can be unpredictable, so it's important to build a diverse client base and have multiple streams of income.
Frugal Entrepreneurship: 5 Low-Cost Business Ideas You Can Start Today
Our Final thoughts on frugal entrepreneurship:
Frugal entrepreneurship is a mindset that emphasizes resourcefulness and efficiency in starting and growing a business. It involves maximizing the use of limited resources and minimizing unnecessary expenses. This approach can be particularly valuable for entrepreneurs who are starting out with limited funds or those who want to scale their businesses without taking on significant debt or external funding.
One of the key benefits of frugal entrepreneurship is that it forces entrepreneurs to be creative and innovative in finding low-cost solutions to common business challenges. However, this can help to foster a culture of experimentation and agility, which is crucial in today's rapidly changing business landscape.
At the same time, frugal entrepreneurship requires discipline and a willingness to make tough choices. Entrepreneurs need to prioritize their spending and focus on investments that will deliver the most significant impact for their businesses. This may mean sacrificing short-term gains for long-term growth, but the payoff can be significant.
Overall, frugal entrepreneurship is a valuable approach for anyone looking to start or grow a business. By emphasizing resourcefulness and efficiency, entrepreneurs can build sustainable businesses that are better equipped to weather economic downturns and other challenges.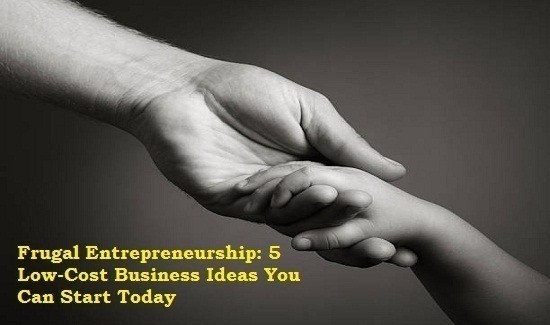 Frugal Entrepreneurship: 5 Low-Cost Business Ideas You Can Start Today
Read Also:
Cessummit Business Development & Support Services:
Cessummit.com is a reputable platform that provides top-notch business development and support services to individuals and organizations across various industries. Also, the platform is designed to help businesses and entrepreneurs achieve their goals by providing them with the necessary tools, resources, and expertise needed to thrive in today's competitive business landscape.
Also, at Cessummit.com, the team of professionals is dedicated to helping clients maximize their potential by offering a wide range of business development and support services. These services include but are not limited to market research, strategic planning, marketing and branding, financial analysis, business coaching and mentoring, and much more.
Frugal Entrepreneurship: 5 Low-Cost Business Ideas You Can Start Today
Furthermore, individuals and organizations can benefit from the personalized and tailored approach that Cessummit.com offers. The team works closely with clients to understand their unique needs and goals, and then develops customized solutions that address those specific challenges.
Whether it is a small startup or a large corporation, Cessummit.com is committed to providing top-quality business development and support services to help clients achieve success. With years of experience and a proven track record of success, Cessummit.com is the go-to platform for anyone looking to take their business to the next level.